Let the Good Times Roll!
Mardi Gras is just around the corner, and I have found that many of our Blue Gators aren't feeling very festive this year because they don't know how they should celebrate. After Covid canceled Mardi Gras last year, this year's festivities have snuck up on everyone, and several students have found themselves unprepared for this celebration. I am here with a list of the most entertaining and fun local Mardi Gras activities so that you don't pass up any opportunity to create long-lasting memories. 
King Cake
One of the most beloved Mardi Gras traditions is king cake. No matter how old you are, the custom of cutting king cake and finding the baby is always an incredibly fun way to celebrate the Mardi Gras season. If you haven't been able to have any king cake yet, bring one for your class and restart the tradition! King cakes are a great way to get people into a festive spirit and help you savor this holiday season, so make sure you don't miss out!
Mardi Gras Parades
Mardi Gras parades are my personal favorite parts of the Mardi Gras holiday, and this year's parade schedule is chock-full of chances to catch beads and have an amazing time.
February 18: Our first parade, the Krewe de Canailles Walking Parade, is this Friday at 7:oo p.m. 
February 19: This Saturday, we have the Carencro Mardi Gras Parade at 11:00 a.m., the Krewe des Chiens at noon, and the parade that officially kicks off the Mardi Gras season, ​​the Krewe of Carnivale en Rio at 6:30 p.m. 
February 20: This Sunday brings the Courir de Mardi Gras and the Scott Mardi Gras Parade at 1 p.m.
February 25: Next Friday presents the ​​COVID Heroes Parade at 6:30 p.m. 
February 26: Next Saturday features the Children's Parade at 12:30 p.m., The Krewe of Bonaparte Mardi Gras Parade at  6:30 p.m., and the Youngsville Parade at 11:00 a.m.
February 28: The Queen Evangeline's Parade will be at 6:oo p.m.
March 1: Mardi Gras Tuesday brings King Gabriel's Parade at 10:00 a.m. and the Independent Parade at 2:30 p.m.
Mardi Gras Fair
Make sure not to miss the fair, Le Festival de Mardi Gras à Lafayette! This fair will be at Cajun Field from February 25th to March 1st, featuring carnival games and rides, live music and entertainment, food vendors, and parades that pass through the festival grounds. Sophomore Caroline Ortemond, said, "The fair is a memorable part of Mardi Gras that I look forward to every year. I can't wait to go back and have another great experience!" The fair is a must during the Mardi Gras season, so make sure you don't forget to stop by before it's gone! 
View Comments(1)
About the Contributor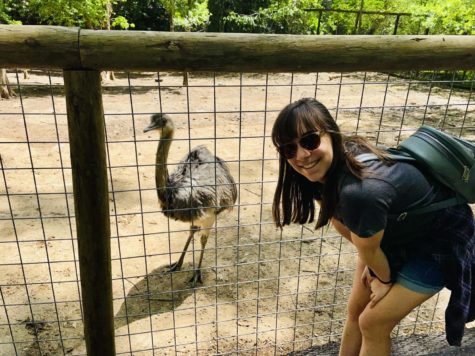 Ella Dupuie, Editor-in-Chief
Hey guys! My name is Ella Dupuie, and I'm a senior this year. I've been at Ascension since 5th grade, and have loved every minute of it. This is my third year writing for the Authored Ascension, and I am the editor-in-chief of the Authored Ascension and the yearbook! I am on the Ascension swim team, and in my free time I love to read and binge TV shows on Netflix.