Gator Volleyball is Bold, Brave, and Courageous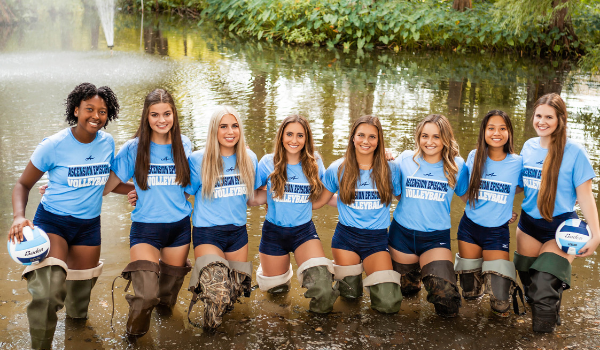 Volleyball season is finally upon us! No more waiting for the fast pace and exciting game that everyone loves. The first official home game for freshman, JV, and varsity was on September 3rd against ED White. It was an exciting night as the stands filled up with parents, relatives, teachers, friends, and students. The student section did not disappoint as it was led by seniors Will Frentz, John Picard, and Lucas Favaloro. The game would not be the same if everyone was not listening to Will, John, and Lucas make spaceship noises as the Gators serve, or if they were not yelling "bounce bounce bounce spin bounce BALL" as the other team prepared to serve. Yes, the game would not be an exciting game if the players did not have skills, but the enthusiasm of the players and fans is just as important to the success of the team. 
Although September 3rd was an exciting game, the Gators did not come out with the win in the end. Freshman put up a fight, but ended up losing in two sets. JV played their hearts out and came close in both sets. Varsity gave it all they had and ended up losing in three out of five sets, but the game could have gone either way. The varsity game scores were 25-23 in the first set, 25-23 in the second set, and 25-18 in the third set. The good news is that each team has the skills and experience. The only thing they all need to do is gel, which takes time. Senior Jolie Arceneaux said, "It won't take long for us to learn to play next to each other, and once we do we will be very successful." After this, there is no question that the Gators will be successful and impress everyone who is watching. 
This season has a common theme of a "new chapter." This is because the previous varsity team consisted of eight talented seniors who played on the team together for multiple years. Although they will be missed, they have graduated, and it is time for the eight seniors on varsity this year to take over and lead the team in their own way. Senior Janai Stevens said, "I am excited for the rest of the season because we have so much potential, and I can not wait to reach it." Come out and support the lady Gators for the rest of the season! They will not disappoint!