Girls Soccer Puts More AES Athletes in Play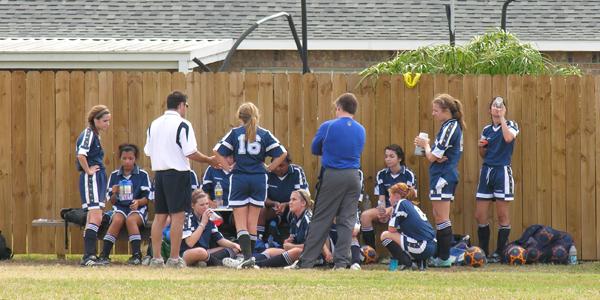 The Ascension girls had their first ever soccer team this school year.
There were 14 players, 11 playing on the field and three alternates.  Stewart Leblanc, a former STM soccer coach, coached the girls.  Al Granger, Nicole Granger's father, helped Coach Stewart out with the new team.
The team consisted of 8th-12th graders; Brittni Clements, Alex Smith, Taylor Beadle, Jessi Pierce, Laura Read Lee, Shenelle Charlot, Michaela Smith, Maddie Edwards, Jessica Greco, Nicole Granger, Darby Bullard, Sheila Mallenahalli, Sara Wortman, and Chusse-Lonna Dardar were all members.
"We didn't win a game this season, but I don't believe that this shows the true team that we were," said Senior Alex Smith.  "We as a group became closer, and I am proud to have been on the first ever AES soccer team."
The majority of the fans were parents, but some of the students went to a few games to support the team.
According to Alex, the highlight of the season for the girls was their last game because they played like a true team, with only one alternate.
"In the future I would like to come back and see that group of girls excelling in soccer," said Alex.
Leave a Comment