Senior Spotlight: Cain Breaux
Name: Cain Breaux
Grade Started at Ascension: 8th grade 

Favorite Teacher: Ms. Fauber
Favorite Ascension Memory: Shadowing Ascension
Future Plans: Traveling the World
---
Cain Breaux began attending Ascension Episcopal in eighth grade. Cain's very first and favorite memory at Ascension is shadowing the downtown campus and meeting one of his closest friends today, senior Will Kerstetter. Cain commented, "My favorite memory was shadowing Ascension and seeing an interesting person that was wearing sunglasses and a cow print backpack with 'Will K' monogrammed on it." His favorite teacher at Ascension is Kayla Fauber, because she makes the material easy to understand and grasp. Cain's future plans are to "travel the world inspiring the youth." He wants to correspond his passion for traveling into his career. He is not sure what kind of career, but he ultimately wants to "inspire youth all around the world." 
Throughout Cain Breaux's high school career, he played football. His favorite part of senior year is being able to lead his teammates on the field and off the field, by creating a special bond with his teammates, and mentoring the underclassmen. He helps the underclassmen on the team with technique and is happy to be able "to get to know the underclassmen inside and out." Cain is thrilled to start the new football season, and to be able to finish with his friends one last year. 
Leave a Comment
About the Contributor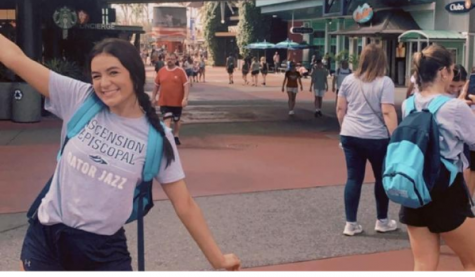 Grace Morgan, Staff Writer
My name is Grace Morgan, I am a senior at Ascension Episcopal School. I have been on the Ascension's competition Gator Jazz team since 8th grade year. I am really excited to make fun memories with my class one more year.