Debate Team Competes in State Tournament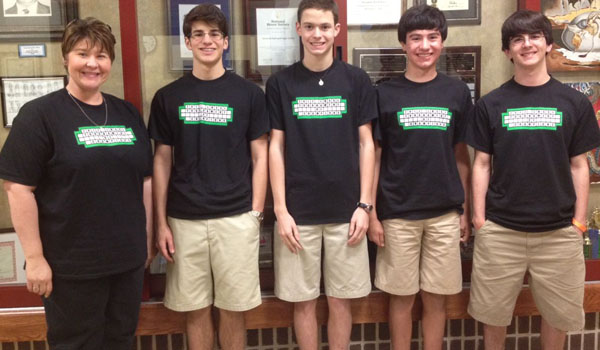 From Thursday March 30 to Saturday March 31, the debate team traveled to Pineville, Louisiana to compete for a State title. Andre' Guidry, Sam Bacque', Michael Dalman, Luke Butcher, and Bennett Anderson all competed in the LHSSL, Louisiana High School Speech League Tournament of Champions.
Sophomores Andre' Guidry and Michael Dalman both competed in the Novice Lincoln-Douglas Debate, Sophomore Sam Bacque' participated in Original Oratory, Freshman Luke Butcher cross-entered in Oral Interpretation (Prose/Poetry) and Declamation, and Freshman Bennett Anderson also competed in Oral Interpretation (Prose/Poetry).
Freshman Luke Butcher went all the way to finals in Declamation performing Franklin Delano Roosevelt's Third Inaugural Speech. He also earned the honor of LHSSL All-State Speech Team. Sophomore Michael Dalman went to quarterfinals in Novice Lincoln-Douglas Debate.
"We are exceptionally proud of the hard work and success of the AES Speech & Debate Team," said Mrs. Lobello, the debate team sponsor. "We received many compliments from fellow coaches and competitors, many who marveled at the fact that our  team achieved so much in our first year of competition. In addition to supporting each other in the tournament, everyone genuinely seemed to enjoy hanging out together and getting to know each other better outside of school."
As you can tell, Mrs. Lobello was very pleased with the way all of her debate students represented AES at the State Tournament.
Debate, Drama, and Advanced Drama are all offered as elective courses in the 2012-2013 school year, and everyone is more than welcomed to join. The teachers are already making plans for their teams of next school year. If anyone is interested, please see Mrs. Lobello or Mr. Curtis for Debate or Mrs. Chance for Speech and Acting events.
Leave a Comment