Road to Nationals
Last February Gator Jazz competed at DTU Nationals for the first time, The team successfully placed 3rd in pom and 4th in jazz. Over the past few months, they have practiced their pom and jazz routine, choreographed by Leah LaGrange, Brandi Holmes, and Sam Leger. Due to Covid-19, DTU rescheduled Nationals to the beginning of April, leaving the team almost three months of practice before they perform on stage. Gator Jazz will proceed to practice with the precaution of the virus and will safely travel to Florida in April
At the beginning of November, the team learned their Jazz routine and in December they started their pom routine. They hope to be able to make it to finals and place in the top five in both categories pom and jazz this year. Each practice varies from four to two hours on weekends and weekdays. Freshman Camille Simon said, "I enjoy it and I am so excited to bond with everyone at Natty's and the rest of the practices."
Captain of Gator Jazz Amelia Morgan said, "I cannot wait to go to Nationals this year to see all of our hard work pay off. This year's group of girls is so dedicated, and I know it's going to be a great competition season!." The team is fortunate to be able to compete again this year and are so excited. The girls cannot wait to show off their routines and go to DTU nationals.
Leave a Comment
About the Contributor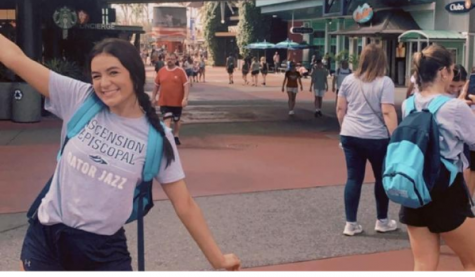 Grace Morgan, Staff Writer
My name is Grace Morgan, I am a senior at Ascension Episcopal School. I have been on the Ascension's competition Gator Jazz team since 8th grade year. I am really excited to make fun memories with my class one more year.