New Faces Pt. 2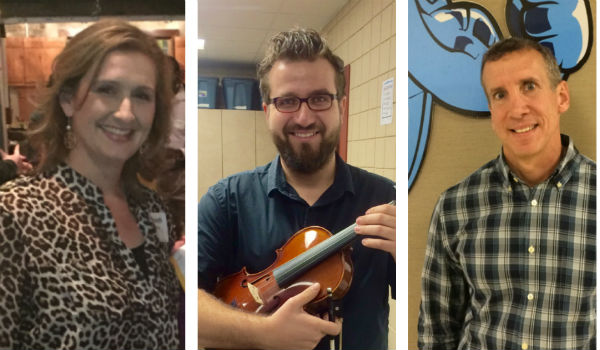 Laurentiu Norocel was born in Romania where, as a child, he realized his affinity for music. After his grandmother noticed that he loved listening to classical radio, he was introduced to violin lessons at a local music school. He was only six years old at the time. Pursuing his musical interest, he enrolled at the National University of Music at Bucharest, earning his bachelors. During his time in Romania, he taught high school students for three years. He then moved to the U.S. in 2010. Two years later, he earned his master's degree in music performance. In his short time here, Mr. Norocel said that he enjoys being at Ascension because he loves the faculty, staff, and student environment.  Being an instrumental teacher, he wants to see a greater emphasis on the music program, specifically on expanding the rock symphony orchestra.
John Campbell was born and raised in Tennessee, and as a child, he wanted to become an engineer. This is where his interest in math grew. He has a motorcycle by the way! As a young adult, he attended LSU. He became a pastor for twelve years and later traveled overseas to Europe. During his time there, he taught biblical studies and calculus in Bulgaria and Lithuania at LCC International University. Did I mention he has a motorcycle? Anyway… while teaching there, he was able to recognize that the cultural experience in European countries is different than that of the U.S. During our interview, Dr. Campbell analogized the Bulgarian people to a wolf pack, while comparing Americans to lone wolves. To elaborate, he said Americans are more independent, unlike those of Bulgaria and Lithuania who often work together and act as a team. He's super cool because he has a motorcycle.
Liz Tremblay was born in Georgia and raised in New Iberia. She later attended LSU to pursue her degree in nutrition. She earned her dietetic's degree and became a registered dietitian. This allowed her to work in hospitals helping people heal and become healthier through their diet. After three years she attended UL and received her teaching certificate.  Her first teaching job was at Highland Baptist in New Iberia twelve years ago. She started off teaching elementary school and soon went on to teach middle school. Teaching here at Ascension is her first high school job and she loves it here! She will receive her masters from California Baptist University this upcoming December. In her free time, she enjoys participating in church activities and ministry outreach. She currently sings with a praise team and hosts youth activities through her church. Mrs. Tremblay's relationship with Christ has helped guide her through her life. Also, Mrs. Tremblay loves pizza, so obviously she belongs in the Ascension family.