Art Rally
Art Rally is the visual arts portion of the Literary Rally. Art Rally is a competition among high schools within our district. It is a spring event that is usually held in March. Anyone in grades 9-12 can participate in this event. Art rally has been in numerous places on the University of Louisiana campus. Last year it was held in the Dean's Gallery in Fletcher Hall.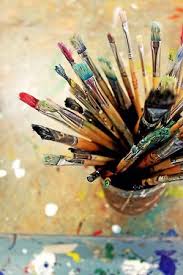 There are several categories for judging, like drawing, painting, sculpture, mixed media, and photography. Participants for Art Rally do not compete the same day of Literary Rally. Their artwork is submitted, judged, then installed in the gallery for viewing. There is an opening ceremony where anyone can attend the viewing of the artwork. It is an amazing experience to see all of the art from other schools, and also to check out the competition for upcoming years.
Ascension Episcopal School can submit up to five pieces of artwork. Art only competes at the district level, not state. However, they compete with divisions 1-5. Once all of the art pieces have been judged, they rank the top works of art. The winning awards are first through honorable mention in each category. This is a great way to obtain experience and to be inspired by other school's artwork.