Ascension Football 2014 Promises Great Season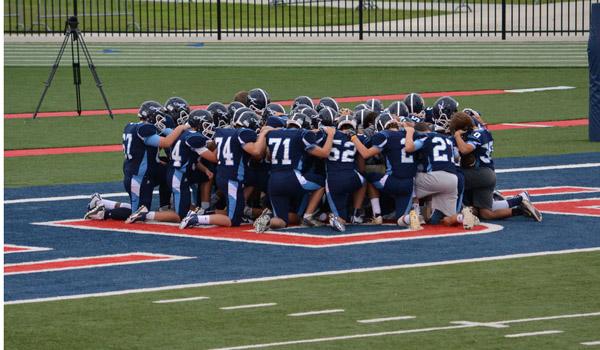 This year is going to be one to remember for the Blue Gator football team.  After opening the season with a shut-out against Grand Lake, the Gators are ready to be on home turf.
This year is the first year the team is going to play all of their home game is the new stadium. It is looking better than ever and ready for its first home game of the year.
"I'm very excited for the season," said Sophomore Josh Hebert who plays safety and is field goal kicker.
This year our five seniors look to lead the team to the playoffs and an even more successful season than last year. Our Blue Gator seniors are Rowe Stipe, Quinn Adams, Sam Zale, Noah Dotson, and Brennan Ducote. The under class men are prepared to rally around this years seniors and are ready for anything that comes their way. The team would also love to earn a victory on their Senior Night against Highland Baptist on October 31st.
The team is ready for its first home game against False River on Friday, September 12. Ten games are scheduled for the season, and the teams are all located in south Louisiana. All of the Blue Gators games are going to be played on Fridays nights in the months of September through November.
The Booster Club is putting on a tail gate party at 5:30 before the AES vs False River game. The first 75 students to arrive at the tail gate will receive a free t-shirt, compliments of the booster club.
All the players and coaches are ready and excited for the remanning nine games. Everyone would be glad to see a W for the game vs False River this Friday. Student Activities is putting on a school wide pep really at the SMP campus at 2:00 Friday.  If you would like to read more about the pep really check out the article written by Lauren Quibodeaux.
Leave a Comment