Basketball Finishes With Winning Season, Playoff Hopes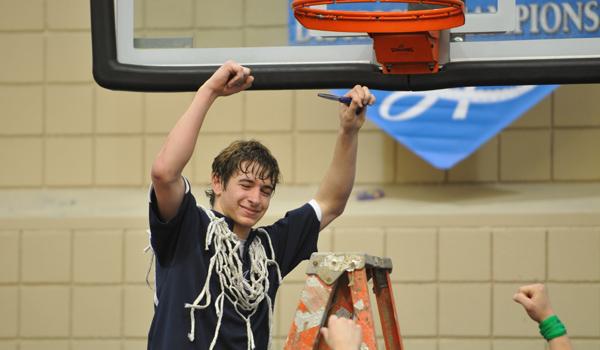 For the first time in AES history, the varsity basketball team has earned a winning season of 14-13.
With Friday's win against Vermilion Catholic, 63-37, the team also took third place in District and is headed to the state playoffs.
"It was really fun to beat Vermilion Catholic that badly!" said William Barry, the only senior on the team.
After the game, the team members took turns cutting down the net, which William sported around his neck like a medal.
"The kids have worked extremely hard since October 24th to accomplish what they have this season," said Coach Eric Mouton.  "The difference is we stopped turning the ball over and rebounded much better, and that allowed us to win enough games to get into the playoffs. "
Heading into playoffs, the Gators are in the 27th seed and will go up against Southern Lab of Baton Rouge Friday night.  According to Coach Mouton, Southern Lab is the #6 seeded team in 1A and has a "great tradition."
"On paper it looks like a mismatch, but you never know what can happen once the ball is thrown up," said Coach Mouton.
Leave a Comment