Coaches Get Moms Ready for Friday Nights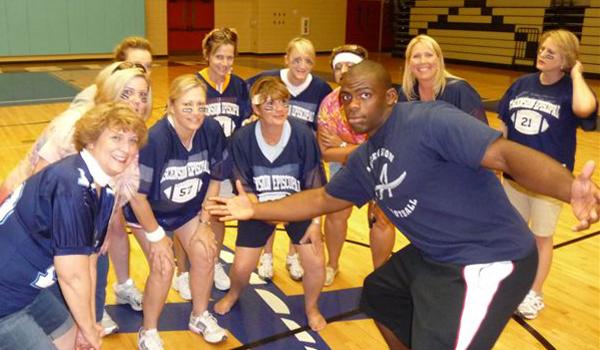 Warm-ups, drills, and scrimmages with Coach Johnson and…a bunch of moms?
On August 27, the coaching staff hosted a football clinic for the Friday night ladies, any young lady over the age of eighteen, including moms, grand moms, aunts, and friends.  These women went to learn the rules of football.
"We took them and put them through practice schedules just like the boys would go through, from the active warm up to the stretch and then the individual periods with the respective coaches," said Coach Johnson.  "Towards the end, we actually got through a scrimmage, and when that was done, everyone went and ate a whole lot of great food."
There were about 60 women who attended.  Once the clinic was over, all of the women received a rulebook, a certificate, and a t-shirt to wear.  Many of the ladies who attended were moms of the football players, so they wanted to put their sons' numbers on the back of their t-shirts.
"It was a lot of fun!" said Mrs. Boland who attended the clinic.  "All of us were impressed because every one of the football coaches were there to help, even the position coaches."
According to Coach Derek Landry, these included Lanier Coleman, Brady Hebert, Mitch Craft, Bo Bartik, and Joey Spire.
The football coaches taught the women everything they need to know so that they can be more knowledgeable next time they watch a football game.
"We each played our son's position.  I was middle line backer, and we all had on our sons practice jerseys," said Mrs. Boland.  "I had Coach Mitch, and he made us do squats.  They made me sore for two days!  After the clinic, we had a spread of food that could have fed the Saints football players.  There was so much food out there!"
"Hopefully, next year word will spread, and we'll get a lot more ladies to come in," said Coach Johnson.  "It was just a little thing to make the ladies feel important."
Leave a Comment