Senior Spotlight: Bella Nicholas
Name: Bella Nicholas 
Grade Started at Ascension: 12th grade 
Favorite Teacher: Mrs. Bourque 
Favorite Ascension Memory: Cheering at football games 
Future Plans: She plans to attend LSU 
Bella Nichloas is a 12th grader at Ascension Episcopal School, and she has attended Ascension for almost half a year. Bella's favorite memory at Ascension is cheering on the Blue Gators every Friday. Bella commented, "Everyone was always so excited and had great school spirit." She enjoys Ascension cheerleading because the girls are the most fun and supportive people she has ever met. Her favorite teacher from Ascension is Mrs. Bourque because everything she does is in the interest of her students. Bella's future plans are to attend LSU in the fall.
Bella switched schools her senior year because Hurricane Laura hit her hometown tragically. It is hard for her to be away from her friends and family in Lake Charles, but she is lucky to have a family that took her in and gave her new opportunities. Bella commented, "Ascension has changed my life. Everyone made an effort to get to know me and made me feel as if I'd gone to Ascension my whole life." Her favorite part of Ascension is the friends she has made throughout the school year.
Leave a Comment
About the Contributor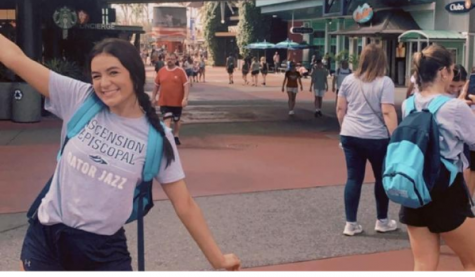 Grace Morgan, Staff Writer
My name is Grace Morgan, I am a senior at Ascension Episcopal School. I have been on the Ascension's competition Gator Jazz team since 8th grade year. I am really excited to make fun memories with my class one more year.