Senior Spotlight: André Perron
Name: Andre Perron
Grade Started at Ascension: 8th grade
Favorite Teacher: Mrs. Robert
Favorite Ascension Memory: The Thanksgiving canned food drive sculpture contest
Future Plans: To attend either LSU, Ole' Miss or UGA and major in something in the medical field.
---
Meet senior André Perron! She started at Ascension in eighth grade and has been involved in leadership for most of her high school career.  Her favorite teacher is Mrs. Robert because she never fails to make André feel valued and important.  When asked about her favorite Ascension memory, she told me about the canned sculpture for the Thanksgiving food drive Ascension put on her junior year.  She said, "It was so amazing to see our whole grade putting in so much work to buy cans, come up with a can sculpture idea, and build the sculpture together!"  André told me the day before the can sculptures were due, her and some other class leaders stayed after school to finish the sculpture.  She said that they were freaking out because they didn't have enough cans, so some of her classmates went to the store that afternoon and bought some.  The day of the Thanksgiving feast, her whole grade was anticipating to see who the winner of the most cans and best sculpture would be and when her classmates and her heard that they won for both categories, they were so excited!
André said that she is not sure where she wants to attend college, but her options are LSU, Ole' Miss or UGA.  She plans on pursuing a career in the medical field and is looking forward to what the future has in store for her! When I asked André about what she liked most about Ascension, she said that it feels like home.  She said that when she first came to Ascension she felt loved, welcomed and accepted. Finally, André ended her interview by saying," I wouldn't trade these past years at Ascension for anything and am so grateful for the amazing school I am so blessed with!"
Leave a Comment
About the Contributor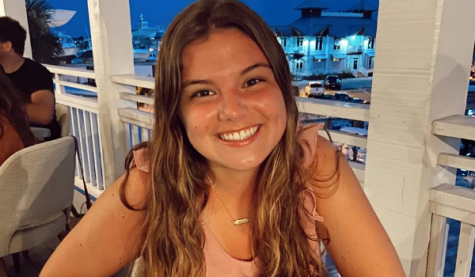 Anna Stefanski, Staff Writer
Hey guys! My name is Anna Stefanski and I am a junior here at Ascension. I love to travel and write. This year I started my own personal blog because I wanted to share my love for writing with people. I am a member of the girls basketball team at Ascension, and I enjoy spending time with friends and family. I am so excited to be a part of the Authorized Ascension and cannot wait to see what this year holds for me!