Senior Spotlight: Virginia Foshee
Name: Virginia Foshee
Grade Started at Ascension: Freshmen
Favorite Teacher:  Mr. McClymont
Favorite Ascension Memory: Addams Family
Future Plans: She plans to attend college and get a BFA in musical theatre
Virginia Foshee is 18 years old and is originally from Baton Rouge, and went to St. Ignatius School before attending Ascension. She and her twin brother, Quaid Foshee,  came to Ascension their freshmen year and have been in love ever since. Some advice she would like to give to the underclassmen is to always be themselves and never be afraid to get out of their comfort zone and try new things. Virginia says that she "wouldn't change anything about Ascension <3" She has loved everything about coming to this school and thinks it has been a super inviting and welcoming place for her. If she could travel to one place in the world, she says she would travel to Japan. 
Her favorite quote is "Those who dare to fail miserably, can achieve greatly" John F. Kennedy. One thing anyone should know about Virginia, is her passion towards musicals. Her love for theatre shines brightly in her personality and is by far the biggest influence in her life. She does so many theatre-involved things during and outside of school and plans to pursue her passion for theatre in college. She has been in several productions with companies such as Christina Youth Theatre and Christian Community Theatre. Her love for acting and singing reflect her relationship with God. Her favorite musical is Natasha, Pierre and the Great Comet of 1812 because of the amazing music and the moving story. 
One of her top bucket list goals is to go skydiving because she wants to face her huge fear of heights. Virginia is still unsure about where she wants to go to college, but she definitely wants to major in theatre. Overall, Virginia has enjoyed so much of her time at this school and wouldn't change any of her amazing four years at this school and all the amazing people she has met for the world!
About the Writer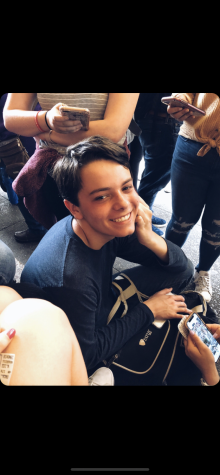 David Chadwick,
Hi! I'm David Chadwick and I'm from Alexandria, Louisiana. I have been going to Ascension since 7th grade and have loved every second of it because of how much I have grown and developed since starting here. I try to get as involved in school related activities as I can. I am an active member in CYT and other theatre related things. I also do Younglife and will be going to Capernaum this summer.  I hope to represent my school through these various and very random selection of articles I will publish throughout my junior year. This school has such a fun and free environment where every student is truly able to be themselves and achieve anything they put their mind to. I can't wait to share my experience at this  school for the rest of high school and all the fun memories that lie ahead for me and all the rest of my peers!