Senior Spotlight: Luke Guidry
Grade Started at Ascension: Sophomore (10)
Favorite Teacher: Mrs. Small-Stutes
Favorite Ascension Memory: During my Sophomore year, I wrote a love letter to Coach Hearen as my final Civics journal. Watching him read it out loud and react to it during class was absolutely hilarious.
Future Plans: I plan to attend CU Boulder as an Astronomy/Astrophysics major with the intent of one day working with a space firm such as SpaceX
---
Most of you have seen the epitome of an Alpha male named Luke Edward Guidry around; most of you know him as the kid whose hair went in five different directions, could grow a full beard with in the month of November, and is ridiculously smart. But there are many different things to make up Bukas. He spent his first year of high school at STM, but said it was "the worst thing ever" and decided to move to Ascension. At Ascension, he became the captain of the quiz bowl team, president of the Astronomy club, is involved in speech and debate, and was formerly the lead guitarist in the Gator rock band. Luke really enjoys coding, physics, and math, as many people ask him for help on these subjects. Around Lafayette, he has played in a few bands and shows in local venues like Dat Dog downtown. If you are bored and want to make Luke's day, you could go see him at his job at Deano's South on Kaliste Saloom. A fun fact about Luke is that he is partially color blind as he has a hard time differentiating colors. 
He has a great sense of humor as he speaks very highly of his fondness for Coach Hearen. For some backstory, one thing we did in Coach Hearon's class sophomore year was write journals due every Friday and Luke decided to go out with a bang by writing a love letter to Coach Hearen: 
"Coach Hearen, you have taught me so much about the world and life.  I can truly say that your class has been an absolute pleasure to participate in and take.  Writing journals is now my favorite hobby; I do them often when I am alone or have nothing else to do.  I will mostly miss doing the discussion questions, though. Can you dye your hair pink for me? 
Coach, you have inspired me to grow a large, beefy beard.  Your dad jokes have quite impacted my daily life, making it essentially paradise.  I am now growing my hair out to look like yours, though I doubt I could pull it off with such finesse and swagger.  My life was devoid of all color and happiness until your DQ's brought livelihood into it. Thank you for giving me meaning.
The great Coach Hearen once said, 'You miss 80% of the shots you don't take', and that has stuck with me for my entire life.  My only regret in life is that I did not heed your great wisdom sooner.  I will miss your challenging tests. I love you. Can you give me at least 1 point for this?"
 Coach Hearon responded with "Sure".
Leave a Comment
About the Contributor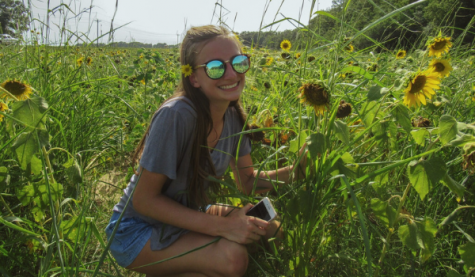 Lauren Liprie, staff writer
Hey I'm Liprie and I'm a senior here at Ascension. I am involved in pole vaulting, track, cheerleading, and Younglife. I enjoy spending my free time hanging out with my friends, listening to music, and making bracelets out of string.