Senior Spotlight: Brooks Whittington
Name: Brooks Whittington
How long have you been at Ascension? I have been at Ascension since 8th grade.  So 5 years now.
Who is/was your favorite Ascension faculty member and why? Joey Walker, because he and his family have helped me greatly. They have always been there to support me.
What is your favorite memory from your time at Ascension? When I was chosen to be homecoming king. I was definitely not expecting that!
---
What do you plan on doing after graduating from Ascension? Um, I am planning on joining the National Guard.  Then I am going to go to UL to major in Business in the spring.
What is your favorite meme?I don't know, I like all "DOGGO" memes. "They always say good doggo, but they never ask how is doggo"
I was asked specifically to insert this picture…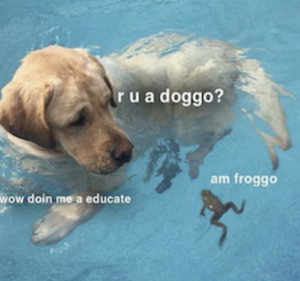 If you could eat one food for the rest of your life what would it be? Twice baked cheese potatoes or "PO-TAE-TOES" as Brooks pronounces it.