Senior Spotlight: Luke Foreman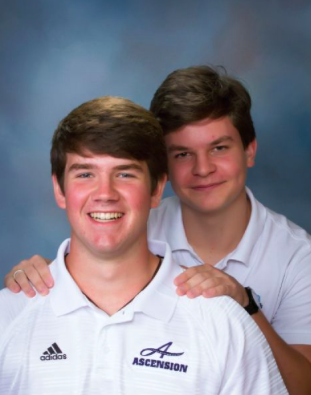 Name: Luke Foreman
First year at Ascension: Freshman year
Favorite teacher at Ascension: Mrs. Chaisson
Future Plans: Luke plans on spending his summer participating in a work crew program through Young Life. For his future academic plans, he is currently deciding between attending Louisiana State University and Baylor University and major in biomedical engineering.
Lightning Round with Luke:
     1. Is double-dipping at a party ever acceptable?
     2. Does your family have any weird nicknames?
 My siblings used to call me Earl, not sure why.
     3. Would you rather be besties with Beyonce or Rihanna?
Rihanna, definitely! (When I asked him why, he said, "because, unlike Beyoncé, she doesn't have kids so we can hang out all the time." Seems logical enough.)
     4. What's your ideal outside temperature?
68 degrees with the sun shining and I quote "the wind blowing through my hair."
     5. First celebrity crush?
Sandy from Spongebob, without a doubt. (Interesting.)