Senior Spotlight: Grace Hill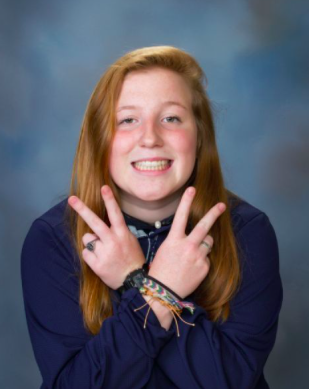 Name: Grace Hill
First year at Ascension: Pre-K 3
Favorite teacher at Ascension: Mr. Walker because he is very understanding and always encourages me to do my best.
Grace's future plans: She will be attending Mississippi State University in the fall of 2018. Grace's ideal professions include being child life specialist or a speech pathologist like her mother.
Some fun facts about Grace:
Her special talents:  She can spin a basketball on her finger and can also do the worm, which makes an appearance at every school dance.
Her role model:  If you need to know anything about Grace, it is that Janet Jackson is her role model. When asked about her love for Janet, she responded with, "I would die for her." What a gal!
Her music heros:  Along with Janet Jackson, Grace's favorite musicians are Lil Wayne, Post Malone, and Khalid. She can rap almost any of their songs like no nobody's business.
Her claim to fame:  If you search "Annie Auditions" on the CYT Lafayette's Youtube channel, Grace's audition should be the very first one you see. This audition landed her the role of Annie and she shined like a star. In addition, this video has over 2 million views, which is pretty neat. (Edit: It looks like CYT pulled the video off of YouTube. What a bummer.)
Favorite Ascension memory: When asked this question, Grace reflected back to her senior night basketball game, when she tripped and fell face down into the ground. She said, "I got up quickly so that people couldn't laugh at me for too long." Luckily, the incident was caught on tape and will live on forever.