Christmas Special Countdown
With Christmas rapidly approaching, I have started brainstorming which Christmas movies I absolutely must watch before the end of the month. With so many Christmas movies out there, making a concise list with only my favorites was no easy feat. After lots of debating my choices and rearranging the list, I think I have settled on 12 of my favorite, festive Christmas specials. For anyone looking for a way to get in the Christmas spirit, join me this holiday season by watching one of these a day, counting down the 12 days 'til Christmas like a true advent calendar. 
*SPOILERS AHEAD*
A Christmas Prince
Before you click out of this article because this movie is a rom-com, I promise it's the only romantic comedy on the list.

A Christmas Prince

follows a journalist named Amber who sneaks into the palace of Aldovia in order to get a good story about the prince, Richard. I'm sure you haven't guessed it, but they end up falling in love. This movie is definitely the cheesiest one on my list, but my sister and I love watching it every Christmas season, making fun of the characters and laughing at their acting. 
Die Hard
Whether

Die Hard

is a Christmas movie or not has been a debate for many years, but I have (obviously) decided that, at least for me,

Die Hard

will be considered a Christmas movie. Throughout this movie, a policeman named John McClane must fight against a group of terrorists that have taken a building of people, including his estranged wife, hostage. Lots of people don't consider this a Christmas movie because the only thing Christmas-y about it is that it takes place on Christmas Eve at a Christmas party. Personally, I think that's enough to make it a Christmas movie, but whether you consider it one or not doesn't take away from how good it is. 
Anna and the Apocalypse
I had never heard of this movie before Emme Pagelsen recommended it to me a few years ago, but it has remained one of my favorite Christmas movies since.

Anna and the Apocalypse

is a movie musical that follows a group of high schoolers trying to survive a zombie apocalypse during the Christmas season. I know, it sounds a little bizarre, but it was actually a really good movie with memorable songs, lovable characters, and lots of Christmas references. 
Fred Claus
Fred Claus

is an incredibly fun movie that follows Santa and his younger, troublemaking brother Fred. After being arrested, Fred is brought to the North Pole by his brother in order to help around the North Pole and work off his debt. This movie is really funny, and I love it so much because of how it portrayed the North Pole through the eyes of an outsider. 
The Christmas Chronicles
The Christmas Chronicles

follows two kids who try to capture Santa Claus, only to then have to help him save Christmas. This movie is incredibly memorable because Santa actually gets arrested and placed in a holding cell with several other criminals; you expect the criminals to attack or hurt him, but Santa immediately launches into an entire song and dance number with the criminals. This movie makes it into my top ten favorite Christmas movies for the jail scene alone. 
Prep and Landing
While

Prep and Landing

is not a movie, but rather a series of mini-movies, I had to include it on the list, as it's one of my favorite things to watch during Christmas. This series features elves Wayne and Lanny as they go on many unexpected adventures while preparing houses for Santa's arrival.

Prep and Landing

is such a unique series, as the elves are very similar to super spies that must sneak around houses in order to make sure that Santa can deliver all his gifts before the end of the night. 
Arthur Christmas
Arthur Christmas

is a very underrated Christmas movie, though it's one of my favorites. In this movie, Christmas seems to be a success in the North Pole, only for Santa to discover that they missed a child. Santa's youngest son Arthur takes on the responsibility of traveling the world to deliver a gift to this forgotten child, all while experiencing trouble with the reindeer and the sleigh. This movie, though often ignored throughout the Christmas season, is one of the most fun, heartwarming Christmas cartoons I've ever watched.

 
Iron Man 3
I'm sure most of you wouldn't consider

Iron Man 3

a Christmas movie, but, if

Die Hard

can be considered a Christmas movie, then

Iron Man 3

can as well. This movie takes place over the course of December, building closer and closer to Christmas as the fight continues. Even though this is a superhero movie that features Iron Man fighting against a fire-breathing bad guy (not a joke) and trying to save his girlfriend, the Christmas decorations and references are very prominent throughout, making this feel like an action-packed Christmas movie. 
Hawkeye
While

Hawkeye

is technically a TV show, not a movie, watching all 6 episodes back-to-back makes the series feel like a long movie. This series, centering around Hawkeye and his new partner Kate as they learn to work as a team to defeat several villains, is a truly festive show that really puts me in the Christmas spirit. From ugly Christmas sweaters, to presents, to even a fight in the Rockefeller Center Christmas tree, this show is packed with enough Christmas cheer to entertain even those who aren't fans of superheroes. 
The Santa Clause Trilogy
My third choice for best Christmas movie is

The Santa Clause

. I spent a while trying to choose my favorite movie of this trilogy, but I ultimately decided to include the entire trilogy in this ranking because I honestly couldn't choose. This trilogy is one that I look forward to watching every Christmas season, and I am guaranteed to stop whatever I'm doing if one of them is playing on TV. A story about some random guy accidentally killing Santa Claus, only to have to replace him and learn to be Santa is a pretty unique one, and these movies are incredibly fun to watch every year. 
Get Santa
This is a movie that I'm sure most of you haven't heard of.

Get Santa

begins when Santa crash-lands his sleigh and is then pursued by the police. Santa recruits a kid and his dad  to find his group of reindeer and ensure that his sleigh is ready for Christmas while outrunning law enforcement.  This movie is in my top three because it is absolutely hilarious, especially when Santa is arrested and sent to prison, where he has to pretend to be a tough guy. 
Rise of the Guardians
My all time favorite Christmas movie is

Rise of the Guardians

, which features Jack Frost, Santa Claus, the Easter Bunny, the Tooth Fairy, and the Sandman. Throughout the movie, these five characters must fight against Pitch Black, the Boogeyman, in order to protect the children of the world from his nightmares and ensure that the children continue to believe in their magic. Of all the movies on this list,

Rise of the Guardians

is the only one that I could watch every single day, regardless of whether it's Christmas or not. 
Leave a Comment
About the Contributor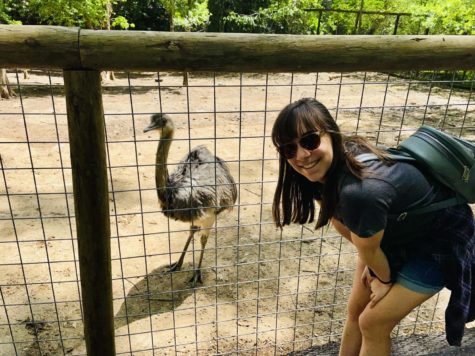 Ella Dupuie, Editor-in-Chief
Hey guys! My name is Ella Dupuie, and I'm a senior this year. I've been at Ascension since 5th grade, and have loved every minute of it. This is my third year writing for the Authored Ascension, and I am the editor-in-chief of the Authored Ascension and the yearbook! I am on the Ascension swim team, and in my free time I love to read and binge TV shows on Netflix.