Meet The Prefects!
This year, the leadership team is being run by eight talented prefects that give their time to help plan things for our school. Each prefect represents Ascension's five core values in their own way. Leadership takes care of pep rallies, Gator Cup games, and they plan the school dances. Our dedicated prefects get things done, and we are so thankful to have them. 
Our Lead Prefect oversees everything and everyone. The Lead Prefect, Maddie Justice, has many jobs and responsibilities. Maddie watches the work going on in class and helps guide leaders if they need help in certain areas. She has been at Ascension since Pre-K3, and her favorite memory is going on the Boston trip in 8th grade. Leadership is her favorite elective she has taken. Maddie loves the environment that leadership works in, and she also loves the people on the team. She also plays basketball and tennis. Outside of school, Maddie loves working out, shopping, and hanging out with friends. Maddie said, "I want people to know that leadership is so welcoming and we work so hard. If you have ever thought about joining leadership I 100% recommend doing so."
Mamie is the Arts Prefect. She works with the Art Department, and she's also in charge of the Homecoming Concert . Mamie has been at Ascension since 4th grade, and she is now a junior on the cheerleading team. Mamie also loves tumbling outside of school and attending Young Life. Her favorite Ascension memory is when the prefects went on a retreat, and they ended up getting a lot closer to each other while planning so many fun things for this school year! Mamie said her favorite elective she has taken is Leadership class. Her favorite things about leadership is getting to work with her peers and doing hype crew. Lastly, Mamie described leadership as an absolute blast and that in leadership, there is never a dull moment.
The Student Life Prefect, Aubrey Womack, focuses on the pep rallies and planning the Christmas extravaganza. Aubrey has been at Ascension since Pre-K3. Her favorite Ascension memory is when she was the magic carpet in the Aladdin play in 7th grade. Aubrey's favorite elective is photography, and she is on the cheerleading team. She loves being able to work with people from all different grades, and she loves being so involved in the school. Aubrey said, "Leadership is a fun, safe, and loving environment." 
Our amazing Academic Prefect, Madeleine Sorell, is responsible for the Academic Pep Rally at the end of the year, and she's also in charge of the Gator of the Month. Madeleine thinks it is important for the prefects to exemplify Ascension's core values. Her ​​favorite Ascension memory is the Last Hurrah Carnival which she helped plan to make. She has been going to Ascension since eighth grade and her favorite elective is theater. Madeleine loves that leadership is full of a lot of different types of people, so they always have new ideas and different viewpoints to consider. She also loves the family atmosphere in leadership and how they all support each other. She plays volleyball and is in CYT. Madeleine says everyone should know that the leadership class is very fun, and everyone should try to be a class leader or prefect at least once in their high school career. 
Jeanne Claire Franques is the Ascensions Publicity Prefect. She is in charge of the Ascension's high school Instagram account, making sure the Ascension families and others know what's going on at our school. Jeanne Claire has been going to Ascension since Pre-K4, and she is now a junior on the cheerleading team. Her favorite memory at Ascension was going on the prefect retreat and being a part of leadership. Jeanne Claire's favorite elective is art! She loves that in leadership it is easy to be yourself and that we have a great group of people who care so much about each other! Jeanne Claire also loves decorating the school and planning the pep rallies. Outside of school she enjoys watching movies, hanging out with friends, and reading. Jeanne Claire believes leadership is a great way to be involved and show your creativity! 
Our wonderful Community Service Prefect, Peyton Peebles, oversees many committees whenever leadership has to plan events for Homecoming or Prom. As the Community Service Prefect, Peyton is in charge of the service events planned for this year. His favorite memories from Ascension come from playing varsity football on Friday nights with his teammates. Peyton has been going to Ascension since Pre-K3 and is on the football and track teams. His favorite memories include supporting the athletic teams while being in the student section for basketball and volleyball games. Peyton loves to play football on Friday nights and enjoys his teammates very much. His favorite elective is Astronomy. Peyton loves how well the leadership team works together and the friendships leadership allows students to make throughout the year. To Peyton, leadership is a team of hard working people that truly try their hardest to make everything super fun for the student body. 
Thomas Bond, also known as Tommy, is the Spiritual Life Prefect, and his job is to help lead Chapel and Eucharist. Tommy works with other student leaders to make Ascension a positive and fun environment. Tommy believes the most important thing to do as a prefect is to lead others by example. Tommy said, "We must do what is right and good in hopes that others will follow us and do the same." Tommy has been going to Ascension since Pre-K. While going to Ascension, his favorite memory was going on a  kayaking trip this past summer. His favorite elective has been Instrumental Music. Tommy plays football and is also involved in Younglife. Tommy said, "Leadership is fun, but it takes a lot of work and determination to get everything done." 
Being our Athletics Prefect, Michael Leblanc is in charge of handling the themes for football and volleyball games, and he also helps with the pep rallies. Mike has been going to Ascension since Pre-K4, and while being here, his favorite memory is being in Ms. Sorrell's class during his junior year. His favorite elective he has taken was Photography I. Mike loves how leadership feels so much like a family and how the team can all work to make ideas come to reality. He also plays soccer, tennis, and he boxes, too. Outside of school, Mike likes to spend his time working out, helping people, and hanging out with friends. Michael said, "It is a lot of work and at times it might stress you out, but it is the single most rewarding experience at Ascension."
View Comments (1)
About the Contributor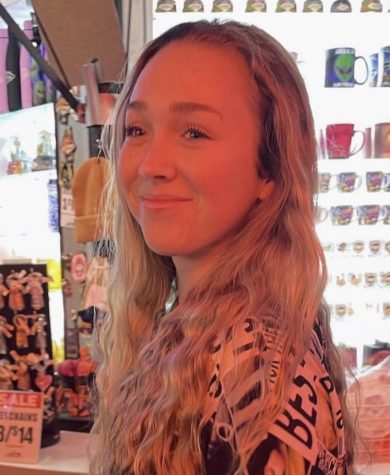 Gabby Piasecki, Staff Writer
Hi! My name is Gabby Piasecki, and this is my first time being a staff writer in Journalism! I am also a junior, and I'm on the volleyball and soccer teams. This year I am on the leadership team, and I am one of the publicity leaders! I love Ascension because you can be involved in so many things. I try to be involved in as many things as I can, such as supporting all the athletes at games, planning pep rallies, and planning the Gator Cup games. I am so excited to work with such a great team in Journalism!