6th Hour Mock Trial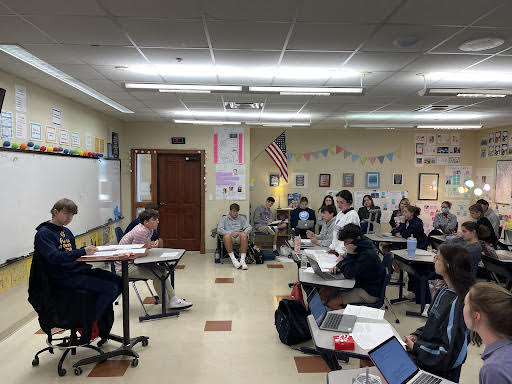 On January 31, 2022, Mrs. Sorrell's senior classes participated in a mock trial of a murder case based on the podcast Serial. On January 13, 1999, Hae Min Lee was reported missing after not returning home. Four weeks later, her body was found dead by strangulation in Leakin Park. Adnan Syed, played by Maxie Baudoin, the ex-boyfriend, allegedly killed her. Jay Wilds, a witness of the murder, helped bury Lee's body. However, he testified against his participation in it. In the mock trial, there were attorneys for both the prosecution and the defendant, as well as witnesses. 
The other senior classes had different outcomes and approaches to solving the case. In Mrs. Sorrell's sixth-hour class, the prosecution's opening statements consisted of proving that Adnan is guilty. They indicated that the murder was a crime of passion. In addition, Adnan lied to his family about multiple events which means he could have possibly lied about the murder as well. Jay Wilds, played by Lanie Pitre, was an acquaintance of Adnan. Supposedly, he brought Adnan to school and was left with no car or phone. He told Jay that he wanted to kill Hae and seemed proud of it. Chris, played by Brayden Begnaud, was Jay's best friend. Chris stated, "Jay told me that Adnan said Hae snapped at him and he got mad and strangled her". Cathy, played by Katherine Voigt, didn't know Adnan, but he came to her house. She mentioned that while Adnan was at her house, he acted nervous and secretive. Adnan received a phone call, and he kept asking the unknown caller what to do. However, at Cathy's house, Jay and Adnan were acting the same way; therefore, it is not confirmed that the phone call was about Hae. Krista, played by Avery LeBlanc, went to school with Adnan. She witnessed Adnan asking Hae for a ride home, although, she has no recollection of a car ride happening. Aisha, played by Carter Breaux, was Hae's best friend. She mentioned that Adnan was very clingy to Hae during their relationship and would show up unexpectedly to their girls' night. On February 9, 1999,  Mr. S, played by Alex Doga, was on his way to work and needed to use the restroom. He stopped in Leakin Park, walked 127 feet, and found Hae's body. Yet, it was odd that the investigators did not see the body, so how did Mr. S see it? Lastly, Laura, played by Avery LeBlanc, did not know Adnan. Her neighbor said that he saw a dead body in the back of Adnan's car. However, she did not see it, but her dad called the police. The last statements of the prosecuting attorneys were that Adnan did not call Hae once he heard about the news, which is suspicious. 
The defendant's attorney's opening statements argued that Adnan was a normal teenage boy who was well-liked. He was the prince of his junior prom and very athletic. In addition, there was no DNA evidence that he killed Hae Min Lee. Adnan Syed, Maxie Baudoin, is being convicted of Hae Min Lee's murder. On January 13, 1999, he went to school and had Jay bring him back to his car. After school, he went to the Woodlawn Public library to check his emails and had a conversation with Asia. After he went to track practice Jay picked him up to go eat. Later in the evening, they went to Cathy's house and Adnan headed home. However, Adnan had no ill feelings towards Hae. They were friends after the breakup and never had any issues. Asia, played by Maleah Domengeaux, talked to Adnan around 2:20 at the library where she was an intern. She went to the library often, but she's positive she talked to Adnan the day of Hae's murder. The medical examiner, played by Alex Doga, was brought to do an autopsy of Hae's body. Lividity was found at the front and bottom part of her body which means she was not able to be stuffed into a small trunk. For the lividity to be at the front of her body, she had to be lying down, feet extended, for 8-12 hours. The cell phone expert, played by Cole Edmond, looked at the call logs and cell phone tower maps. The incoming calls aren't reliable, only the outgoing calls. For an incoming call to be reliable, it must last for a reasonable amount of time. For example, the Nisha call is reliable since it was 2 minutes and 30 seconds. There was a glitch in the system which would sometimes ping the person who was making the call. The neighborhood boy, played by Carter Breaux, is Jay's friend and Laura's neighbor. He has seen a dead body before but did not tell Laura about seeing one. Don, played by Amelia Crouchet, was Hae's boyfriend at the time of her death. He was supposed to meet up with Hae the day she disappeared. Nonetheless, he was never suspicious of Adnan since Hae never complained about him. Lastly, Becky, also played by Maleah Domengeaux, was friends with Adnan and Hae. She saw Adnan talking to Hae about a ride home. That car ride never happened, which Adnan was never upset about. The last words of the defense attorneys were that Adnan's DNA was not in Hae's car. Therefore, there was no substantial evidence. 
Once the trial was over, the jury of sixth-hour decided that Adnan was innocent. Although, in real life, Adnan Syed is still in prison. He has been sentenced to life in prison. He has made his time in prison enjoyable and has to come to peace with it. This mock trial showed that Adnan deserves a second chance. 
Leave a Comment
About the Contributor

Emma Caswell, Staff Writer
Hey, y'all! My name is Emma Caswell and I'm a senior this year. This is my first year in Journalism and Authored Ascension and I'm super excited to be involved in it. Since it is my last year here, I plan to contribute more to the school community. Throughout my high school career, I've participated in varsity volleyball and Cupcakes for Causes. I love to travel, binge-watch my favorite shows, and hang out with friends. I can't wait to see our achievements as a class!