Good Morning Ascension
   Good Morning Ascension (GMA) is the Ascension Episcopal School morning show that the student body and teachers watch every single morning. Students report the morning announcements on GMA, then the show features upcoming events in the week, field reports, and pledge and prayer. The show is a great source to remind the student body of important events that are needed to know throughout the week. On spirit days or Fridays, GMA is made differently to engage the students in the show by making it entertaining. It is also a tradition on every Friday for Mr. Steven Sorell, Dean of Students, to sell boudin biscuits for 4 dollars.
   Last year,  were a bit different. They were announced during chapel, but because of Covid-19, grades take turns every day going to chapel. The show is an efficient source to announce events to all grades instead of during chapel or sending emails. Senior Andre Perron commented "GMA is such a fun way for us to share announcements and also is so fun to make! The field reports by [junior] Sam [van Eaton] make GMA even better, and I'm so excited to continue sharing this form of announcements with the school!"
The morning show also is more beneficial to give announcements , as it engages more people to watch. At first, class leaders and prefects hosted the show every morning, but now, they let anyone from Ascension announce the news. It gives students opportunities to be involved with school. Senior Amelia Morgan said, "It was really fun and I like it better than last year because students can be more involved."
Leave a Comment
About the Contributor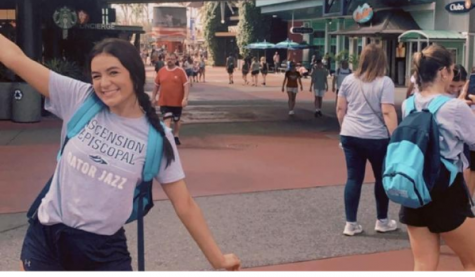 Grace Morgan, Staff Writer
My name is Grace Morgan, I am a senior at Ascension Episcopal School. I have been on the Ascension's competition Gator Jazz team since 8th grade year. I am really excited to make fun memories with my class one more year.