World Geography Capstone Project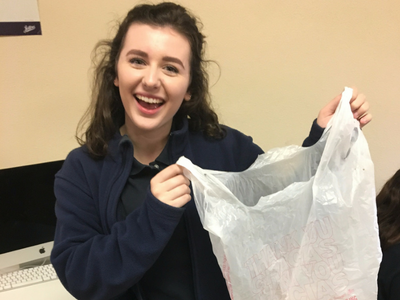 Just a week ago, Coach Jill's 3rd and 4th period world geography classes started off their long awaited capstone projects. The purpose of the project is for the students to find and research a issue affecting the earth globally and pose a possible solution. To start off, everyone had to get their idea approved by Coach Dardar, who first came up with the idea of a capstone project at Ascension. Students have been brainstorming and doing research. The concept is to choose an idea that is narrow enough so the students can have a possible impact. Therefore, these capstone projects aren't solving issues like terrorism or world hunger. Contrarily, students may be researching coral reef destruction, looking at alternatives for desalination plants, or even researching the causes for infectious diseases in African countries. Students pick an issue that interests them, find a couple countries with the problem to narrow their research, and then use the information they gather to come up with solutions. Over the past school year, these classes have covered and explored various countries in Central America, South America, Asia, Africa, and Europe to prepare for this project. Each student has come up with numerous capstone ideas through the course of the year to give everyone an idea of what to expect going into the capstone.
This project will force students to think out side of the US and think on a global scale. In order for the project to be organized and well thought out, students will have the rest of the school year to work on it. Students are learning that a small action such as adding wolves to a natural park, for example, can have a huge impact on the environment like putting a stop to flooding. The project will consist of a lot of research, lot of questioning, and a lot of redoing. Going into it, students know they may encounter problems, which could force them to start over or approach their idea in a different way. Therefore, nothing is set in stone through the course of the project. Students will also be in communication with experts from all different areas of the world that know all about their issue. In the end, students will write a 15 page paper and present their research to Coach Dardar plus a board of other teachers. Hopefully, between the two classes, numerous worldwide issues will be examined and solved.