Junior Class Takes On College
Last week, January 24th – 27th, the junior class took a trip through the state to Texas with goals of preparing for the rapidly approaching future — college. The trip is an annual tradition for the junior class as means of exploration and development of opinions on schools and goals for the future. For most, touring colleges was a reality check at how quickly high school has gone by. Walking through potential colleges beside people we have been in school with for as long as we can remember, some for the past 14 years, was surreal. Through high school, hearing mythical stories of applications and escapes are only that–stories–until you enter college campus and reality sets in. Moving forward, the trip acts as motivation for the juniors to work hard for our remaining high school career.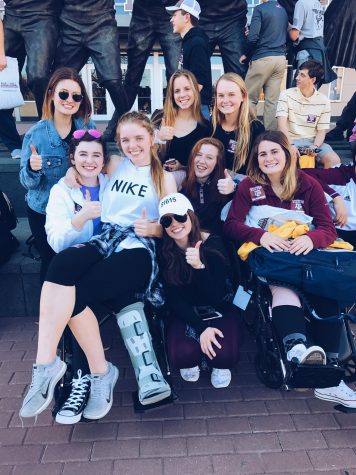 The class was split in two for a multitude of logistical convenience reasons. The first trip travelled to the furthest school, Texas A&M in College Station, and made their way back home. This bus was filled with mostly athletes, as the basketball and soccer teams had to ensure an early return in time for their games. Traveling with athletes means athletic injuries, such as Carolina Cordova and Hannah Dees both suffering from leg injuries and thus had to tour the campuses in wheelchairs. These handicaps might seem like a hassle (and at times they were), but they provided unique reason to judge a feature of colleges that they rarely note in the typical information sessions — wheelchair accessibility. Hannah Dees gave us her opinion on the experience, "the worst perpetrator was Centenary College in Shreveport, as the promised ramps and elevators were not easily accessible." The second bus began closest to home at Northwestern State University and then travelled through to the following schools in Texas. That particular bus also experienced technical difficulties upon beginning their journey home when their bus broke down in College Station. The group was stuck for 4 hours, putting them at an arrival time at SMP's campus at 3:30am. Laurel Guidry claims, "it was worth the trip."
The students toured a total of eight schools through their journey: Texas A&M University, University of Texas (UT), St. Edward's (STEDS), Texas Christian University (TCU), Southern Methodist University (SMU), Louisiana Tech, Centenary College, and Northwestern State University. Each of the schools have unique characteristics such as varying size, environment, difficulty and distance level. The schedule intentionally provided the juniors with exposure to all types of schools with hopes of igniting ideas and appealing to different students. In between tours, the students were given ample opportunity to explore the cities, to get a taste of freedom. This provided the students with a real experience in the cities of the colleges as location is a crucial to choosing a school. Overall, the students came off the trip slightly overwhelmed and well educated on many wonderful schools.