Election Day Results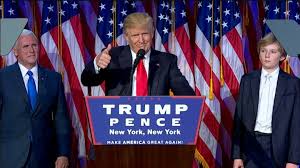 The 2016 presidential race that began 595 days ago and involved 22 major candidates has finally come to an end. On Tuesday, November 8, millions of voters headed to the polls all across the U.S. to cast their votes for President of the United States. In order to win the position, a candidate must obtain 270 out of the 538 electoral votes. The long awaited day when Donald Trump and Hillary Clinton face off for the last time has now passed and the results are in.
So, in case you have not already heard, our new president of the United States is Donald Trump! Trump won the election with 276 electoral votes, versus the 228 electoral votes that Clinton received. Both parties received 48% of the popular votes. In his victory speech, Trump chose to praise Clinton and say that she "has worked very long and very hard over a long period of time, and we owe her a major debt of gratitude for her service to our country." The president-elect will not become the official 45th president of the United States until January 20, which is Inauguration Day.
Also on Tuesday, the journalism students held a mock election in which each grade and the teachers and faculty resembled a state. Although the results did not seem to surprise too many people, Donald Trump won by a landslide. In the eighth grade, Trump won with 69.4% of the votes, in ninth grade, he won with 89.3%, in tenth grade, he won with 73.2%, in eleventh grade, he won with 71.2%, in twelfth grade, he won with 70%, and among the teachers and faculty, he won with 53.3%. Of the 280 total votes that were cast, 204 voted for Trump, 39 voted for Clinton, 27 voted for Johnson, and 10 voted for Stein. So, based off of the results of the mock election, I would say that the majority of the students and faculty are pleased with the outcome of the national election.