English Class Has Killer Night at the Movies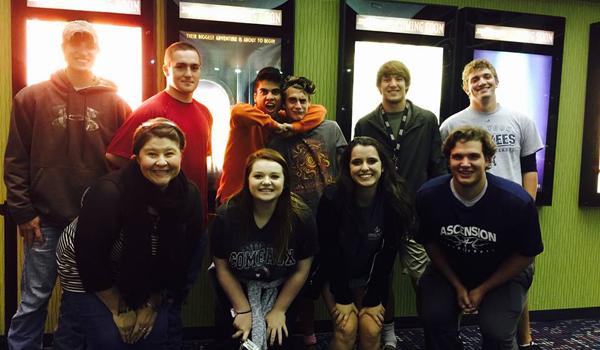 Recently, Mrs. Lobello and the English IV class went to the movies to see the original black and white 1960 Psycho at the Grand Theatre.
"I thought the Psycho movie was actually a good movie," said Senior Abby Dees. "I'm glad I went because it gave me a different look and perspective on what we read in the book. Even though I now know the ending of the book, it was a HUGE plot twist that I definitely was not expecting, but, overall, it was a good experience, and I was glad that I got to go."
According to Mrs. Lobello, it fit in well with their curriculum because they were in the middle of reading Psycho at the time. English IV consists of gothic, dystopian, and post/apocalyptic fiction novels. Psycho fit in very well because it allowed students a look into the dark mind of a serial killer. They also learned about the real American psycho murderer and grave robber, Edward Gein, on which the novel was based.
To get another take on the story, they also watched the remake of Psycho. This also allowed them to see the how the horror genre has changed over the decades.
"I enjoyed the old movie. It's not everyday that you get to see a classic horror film in black in white," said Senior Zach Frederick.  "I like how Hitchcock decided to do the movie in black in white because to me I enjoy seeing the effects in black in white. For example, when she was killed in the shower scene, it was interesting to see the how the blood was made with a dark gray color. That really excited me. I think the old movie in black an white is just as good if not better than the new movie that is in color."
The students were not the only ones who had a blast.
"What I enjoyed most about our field trip to the movie theater was being able to see Hitchcock's film as it was intended to be seen on the big screen; the shower scene was so much more intense, and the music was even creepier with the theater speakers," said Mrs. Lobello. "But best of all for me was watching the faces of our students reacting to the scenes throughout the movie! I enjoyed watching them laugh, squirm, and jump…and even a few of them cover their eyes!"
Leave a Comment