Making History: Student Athletes Commit to UL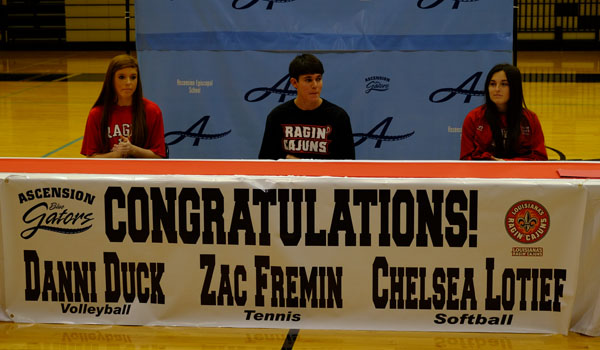 This year is a year of firsts at Ascension. From playing on our first ever football field, to three student athletes signing to Division I athletics at University of Louisiana Lafayette.
Seniors Danni Duck, Zac Fremin, and Junior Chelsea Lotief committed to Ragin' Cajun athletics on January 22, 2014. However, Lotief, being only a junior, is allowed to verbally commit, not fully sign with the school. Duck and Fremin have fully signed to play for UL for their upcoming freshman year.
Fremin has signed to join the UL Tennis team for the upcoming Fall of 2014. During his high school career, Zac has won the regional championships, qualified to compete at state, and was awarded MVP and most outstanding player during the 2010-2011 season.
He then relocated to Nick Bollettieri Tennis Academy, in Bradenton, FL, where the best tennis players in the world train. While in Florida, Zac won the 2011 Bollettieri Junior Championship.
Next, Zac made his way back to Lafayette and represented Team Louisiana at the Junior Southern Cup and is currently ranked #2 in the state for junior tennis players.
Zac has held a top 50 southern ranking for the last three years. Also, Zac is undefeated in high school tennis and is an honor roll student.
"Out of my 20 years of coaching, Zac is by far one of the most hardworking players I've seen," said Coach Buck Bobo.
Danni Duck, who has been playing for Ascension since elementary school, signed to join the Ragin' Cajun Volleyball team for the fall of 2014.
"Danni Duck will be a player talked about for generations of Ascension volleyball players," says Coach Jill Braun.
Danni has been voted to many all tournament teams, all-district 1st team and all-Acadiana first teams since eighth grade. She is also a two-time first team all-state player. Danni is the first volleyball player at Ascension to commit to a Division 1 school.
"In her early years she was a leader by her playing abilities and always someone her teammates and I could count on to make things happen on the court.," said Coach Braun. "She will tell you that she heard my voice A LOT…maybe some would call it yelling."
Danni led the Lady Gators to the most wins in the programs history.
"Danni Duck has left a legacy for the Ascension volleyball program that I would be proud for any aspiring player to try to live up to," said Coach Braun. She will be greatly missed next year, but I am very excited to see her use her abundance of God-given talent at the next level."
Lotief, a star softball player since birth, verbally committed to UL this past week. Chelsea, only being a junior here at Ascension, is not legally allowed to sign until next school year.
"Chelsea is a leader, not in what she says, but in the way she acts," Softball Coach John Louviere. Also, as most readers know, Chelsea is the daughter of UL Softball Head Coach Michael Lotief and Stephanie Lotief. Obviously, Chelsea has been trained by some of the best.
The UL Softball Team was recently tabbed as #13 in the nation by the USA Today/NFCA Preseason Poll. In 2013, Chelsea was awarded first team all district and academic all district.
Last summer, Chelsea's club team, Louisiana Blast, won the 18 Gold State Championships in ASA for the Jr. Olympic Program. Her summer team also won a state title in the NFA tournament. Chelsea is also ranked  first in the USSSA fast pitch showcase in Beaumont, Texas.
Good luck, future Ragin' Cajuns!
Leave a Comment