Sudden Impact Impacting Students' Lives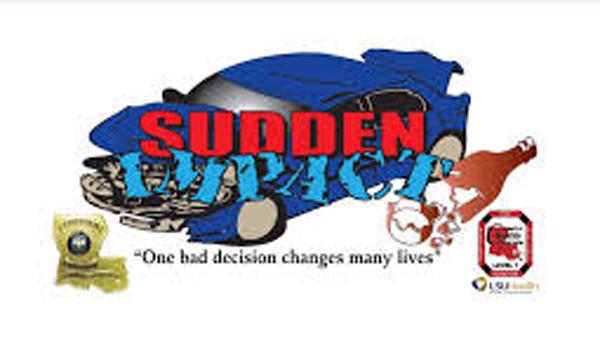 On Wednesday, Sept. 25, Louisiana State Police and Women's and Children's Hospital held a brief presentation at Troop I on the Sudden Impact program and its benefits to AES and its student body.
Sudden Impact is a program designed to decrease the amount of injury and fatal crashes that result from impairment and/or lack of seat belt usage;  the junior class attended this program last year.
The presentation at Troop I featured key parts of the hospital based program. The officers of Students Against Destructive Decisions and this  reporter were invited to attend, along with administrators, teachers, and coaches from ESA, Catholic High, and Teurlings. The brief presentation involved statistics, information, and real-world problems people in Louisiana have dealt with for the past couple of years due to drinking, driving, and fatality.
There was one story in particular that stood out to students during Sudden Impact. A girl named Ashlee Stoke's struggle began in May of 2008, when a drunk driver slammed into the car Ashlee was driving and nearly killed her. Now 21, Ashlee is still having many difficulties with walking, reading, and normal daily activities. Trooper Hammonds described her condition as "a prisoner in her own body". There mission at Sudden Impact is to stop tragedies such as Ashlee's from happening.
Sudden Impact provides multiple events for each high school. First, all sophomores attend the morning presentation, jeopardy, then a tour of Women's and Children's. Also, during the presentation they allow students to operate the drunk goggles to see the perspective of driving while intoxicated. Then, as juniors the class attends a mock crash on campus, sort of like No Fear No Future.
"It's definitely very different than No Fear No Future and other programs," said Trooper Hammonds.
Towards the end of the presentation this reporter was also asked to give a speech (which was so nerve-wracking).
Sudden Impact is a program that has affected the whole junior class. Many students think that it is an excellent program, and this reporter told the administrators, coaches, and teachers at the conference that it is a true learning experience, recommending it for their student body. Also, (fun fact!) no student after attending this program has been involved in a fatal crash due to drinking, not wearing seat belts, or texting, which is incredible!
Leave a Comment