PTA Gives AES Teachers iPads in "Oprah Style" Afternoon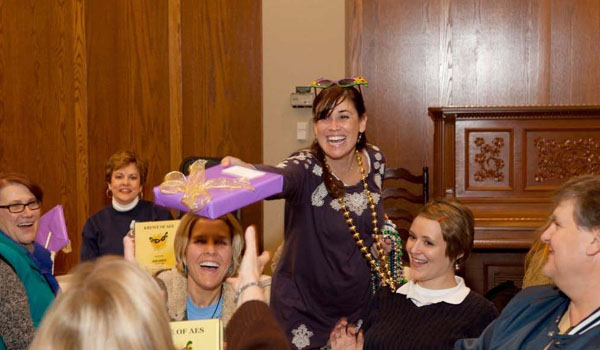 This past Friday, the faculty of AES was in for a huge surprise.  It has been described as a "very Oprah moment" by Ms. Fournet.
The PTA presented all academic teachers with 68 brand new iPads, and some departments such as music and athletics will share an iPad.
The big reveal was kept a secret.  Teachers thought that their afternoon in-service was for the purpose of introducing the in-coming head, Dr. Dave Rath.  Dr. Rath greeted the faculty, spoke a little about himself and his excitement about coming to AES, and then he made the announcement that teachers were receiving iPads.
The initiative came from a plan that Ms. Christi Juneau, head of middle school, created.  When asked about when she came up with the idea for the iPads she replied,  "The day they came out!  iPads are powerful tools, and I knew they could be used well in the classroom.  I went to the PTA with the idea in December but had no idea that the gift would be awarded so quickly."
Moments after the iPads were distributed, Dr. Cox told teachers to look under their chairs to find an iTunes gift card for purchasing apps.  Later, PTA President Marika Mury announced that all teachers were receiving a $50 check to pay for the purchase of a cover.
"You can't ask for a more exciting faculty meeting," said Ms. Fournet.
Ms. Juneau, as well as other teachers, think that the iPads will certainly change the classroom.
"The apps are interactive and engaging," said Ms. Juneau.  "New ones are available almost daily.  Additionally, teachers can obtain apps and information through iTunesU. "
Ever since the big surprise, talk of the iPads has been lingering through the halls.
"I think it will be much more beneficial when it is synced to the computer, but I'm very excited to use it in class," said Mrs. Ladmirault.  "The PTA also gave us $50 iTunes gift cards to use for apps. The other English teachers and I are going to have a meeting to get the best apps that I can to help my students with."
There are so many different apps that the teachers will be able to use in class for every subject.
For instance, Mrs. Guidry, the upper school art teacher, is eagerly trying to figure out ways to incorporate the iPad into her classes. "There's a ton of fine art apps that I'm planning to use."
So far the iPads have been a huge success, and teachers, as well as students are excited to see what role they will play in the classroom.
Leave a Comment