Juniors Discover What Colleges Have to Offer on Tour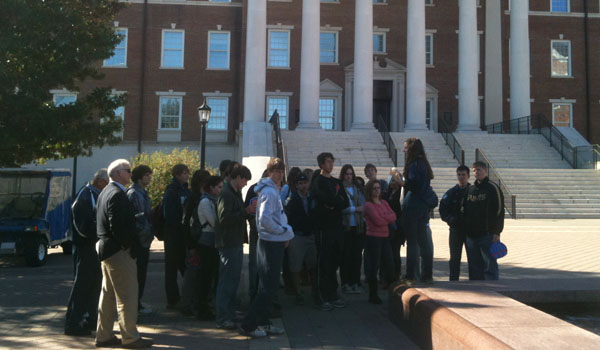 On Tuesday, Nov. 15, the junior class headed out on a charter bus and visited seven colleges in Texas and North Louisiana in just four days. The trip was packed with many college tours, many bus rides, and plenty of fun.
The first school that the juniors visited was Rice University in Houston, Texas. The Rice Institute opened on September 23, 1912 with 77 students and 12 faculty members. Today there are 6,082 students and 1,073 faculty member at Rice University.
As visitors, the juniors were brought on a walking tour around Rice's beautiful campus. They learned that approximately 77 percent of the current undergraduate student population lives on campus in 11 residential colleges. The juniors were lucky enough to actually go inside one of the residential colleges and go inside a dorm, which was very nice and roomy.
The juniors learned that Rice was a very academically-driven school where the students still had their fun. One fun prank that the tour guide shared with the junior class was that a couple years back, the engineering students created their own set of levers and pulleys to physically take a statue that was in the center of the quad and turn it backwards.
After touring   Rice, juniors hopped back on the charter bus and headed to College Station to visit Texas A&M. Unfortunately, the juniors were not able to take a walking tour of the campus because of the rainy weather, but they sat in on an informative presentation. With a current student body of more than 50,000 and a campus of over 5,200 acres, it is also among the nation's largest universities. The juniors learned that A&M is very passionate about their Athletic Aggie Spirit. A&M claim to have "A Winning Tradition" in varsity sports. Among all the colleges the juniors vistied, A&M had the most traditions by far.
"They were both really great schools," said Brianna Sturlese of both schools.  "Rice was such a beautiful school and seemed like such an honorable place to be. Though we didn't get to walk around A&M's campus due to rain, the love and enthusiasm from the students towards their school was a very appealing aspect that we saw throughout our presentation."
On Wednesday, Nov. 16, the junior class was able to tour was the University of Texas in Austin. UT is a huge school with every kind of activity a student would want to pursue. They are still a growing school with many new facilities being added on to the campus.
The juniors were able to see the construction for a new building they are putting up along with the great UT football field. They had a very impressive trophy room with many honoring awards and glittering trophies. The presentation before the tour was also very insightful and clear on what was needed to hopefully become a longhorn.
"UT is a really big school in a big city with a lot to offer to students," said Kane Fontenot.
Southwestern University in Georgetown, Texas was a rather small academic school with a beautiful campus. The admissions director was very helpful and had great advice. She encouraged all students to spend 15 minutes a day on leisure reading and 15 minutes a day on leisure writing to help prepare students for those demands in college.  She cautioned students that they can expect to be assigned 1500 pages of reading a  week in college.
She also gave the students some advice on the essay part of the admissions packet by saying that an applicant should do not want to write about what he/she thinks the admissions counselors want to hear, but write about "what makes you you" to allow the admissions team to get to know each applicant better.
"Southwestern has a very pretty campus, but the school is really small," said Anna Remondet.  "The admissions advisor was helpful in tips for applicants applying to Southwestern along with any other colleges."
The next day the junior class visited Texas Christian University in Fort Worth, Texas. This college was the favorite to most students and even teachers. TCU has approximately 9,000 undergraduates. Many students thought that it was a very beautiful campus that is just the right size.
Luckily, the juniors were able to eat breakfast in the TCU student union. During the tour students were lead through 275 acres of the campus and shown around several different buildings. Several students really enjoyed the college and had positive things to say about it.
"I like the size of TCU," said Anna.  "It was wide open but not too big to where it would take you forever to get to class."
The second school the junior class visited that day was Southern Methodist University. This is a small private university in the heart of Dallas that has a long background with The United Methodist Church. At about 11,000 students, SMU is celebrating the centennial of its founding this year.
Today the school is most proud of its strong liberal arts foundation through the humanities and sciences. Juniors enjoyed a Thanksgiving feast in the dining hall before going on tour.  Although long (more than an hour and 40 minutes), the tour was very impressive and informative. The campus was quiet, full of history and artwork.
"SMU was very welcoming," said Anna. "I felt like I could walk into a class and be immediately accepted."
The last day of the trip the juniors first visited Centenary, which is a very small college consisting of only 800 students. It claims to be the oldest college west of the Mississippi River. The teachers at Centenary emphasize a one-on-one relationship with all of their students. The juniors were able to visit a classroom, which was arranged in for a seminar, a small room with desks in a circle. This is an accurate example of how the style is at Centenary.
According to one of the biology faculty, it is a common thing for a teacher to have all of their students cell phone numbers so that when a student has questions or problems they will be able to help as much as they can. Some of their popular programs are the pre-med and biology fields. Centenary was kind enough to treat the entire junior class to lunch.
Although the class was scheduled to visit Louisiana Tech, the juniors had to return home early when one student became ill.  After four days on tour, everyone was ready to get home and begin the Thanksgiving holiday.
Leave a Comment