What's In Store for the Crazy Week of Homecoming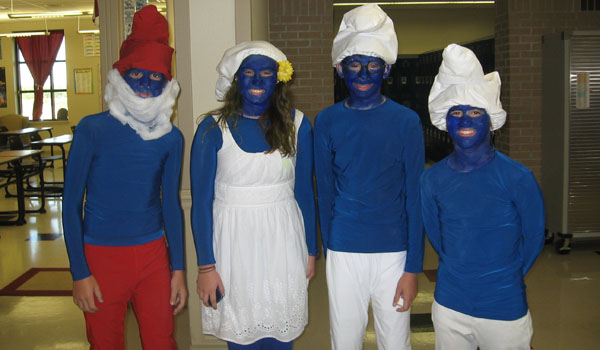 AES is having another annual homecoming week that is full of fun and crazy things for grades 8-12.
To kickoff homecoming week, the homecoming court had a tea at Ms. Fournet's house at 2 p.m. on Sunday, Oct. 2.
Monday, October 3 is "A Day With the Stars".  Students could dress as their favorite movie character of all time. Featured at school will be local and AES musicians and entertainers who will perform.  During the break there will be a Pixar short film movie and popcorn for everyone to enjoy.  Also, advisories will mount their door decorations for the competition.
"Pajama Party Fun Day" will be Tuesday, Oct. 4. This means students basically get to come to school exactly how they woke up that morning! Of course, appropriate, and modest dress is required. To match the theme of your morning attire, donuts, coffee, and milk will be sold. At break, a challenging hot dog eating contest will be held outside, and  the door decorations will also be judged that day.
On Wednesday, Oct. 5 the theme will be "Super Fly Super Hero" day! Students can come to school in their favorite superhero/comic book character, and go all out! There will also be snowcones for sale, and a challenging Powder Puff football game will also take place that day, which should be very interesting.
On Thursday, Oct. 6 will be the "Country Come to Town Day" where students get to dress in their most country, hill billy, or camouflage attire for the day! If you ever had a dream of the country life, that day will be your day! There will be so many fun activities such as a fun jump, popsicles, and even an Angry Birds set-up.  In the evening everyone can come attend the bonfire, which will take place from 7:00-8:30 pm!
" 'HOW BLUE ARE YOU?' Spirt Day" will be on Friday, Oct. 7. Students should come to school dressed in all of their blue and white to show off their school pride and gator spirt.  Students can get their faces painted to showcase their spirt! There will be a pep rally at 1:45 p.m. with many exciting activites such as: teacher games, tug of war, sumo wrestling, and pie throwing.  There will be an early dismissal at 2:30 on Friday so that the dance committee can prepare for the homecoming dance.
Students should come out and support the AES football team for their homecoming game against the Gueydan Bears at Clark Field at 7 p.m.
At half-time, the Homecoming Court will be presented, and a queen will be announced. The girls on the court are Victoria Doré, Anna Carlisle Campbell, Emily Duplechain, Hannah Bennett, Laura Read Lee, Destiny Fordis, Erin Patin, Nicole Pilgrim, Caroline Rhoades, and Jessica Pierce.
Then the moment we all have been waiting for… The Homecoming Dance (grades 9 – 12) will be on Saturday, Oct. 8 at the Upper School Library. The dance will be from 8-11 p.m.. The tickets are $5 in advance and $7 at the door.
Leave a Comment