Juniors, Seniors Visit College Fair in Baton Rouge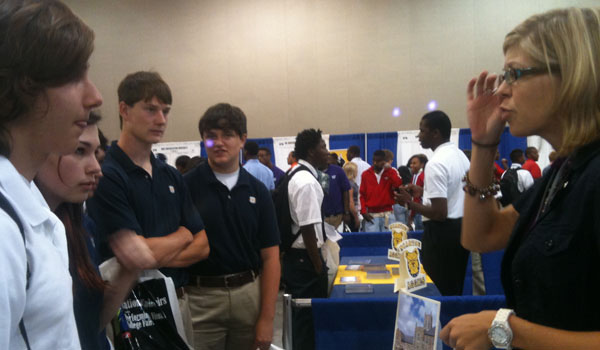 This year the AES juniors and a few seniors went on a trip to the NACAC College Fair in Baton Rouge on Tuesday, Sept. 27.
NACAC is National Association for College Admission Counseling, and one of its services is to hold college fairs so students can meet college representatives to learn about what's in store at a particular college.
Before hand, the AES students registered online and received a bar code which they took on the trip. Students only had to have schools scan their bar codes to receive information about that college and stay in touch with them.  There were more than a hundred colleges, universities, and institutes on site, and students went around talking to other students and getting a better insight on their desired college.
"I thought that it was very informative and gave me a look into schools I didn't even know about", said Junior Anna Remondet.
According to the NACAC website, "Every year, more and more students attend National College Fairs seeking information about colleges, universities and other postsecondary institutions."
Schools at the fair included Penn State, Millsaps, Texas Christian University, Emory and many more.
Leave a Comment