Have You Seen This Duck?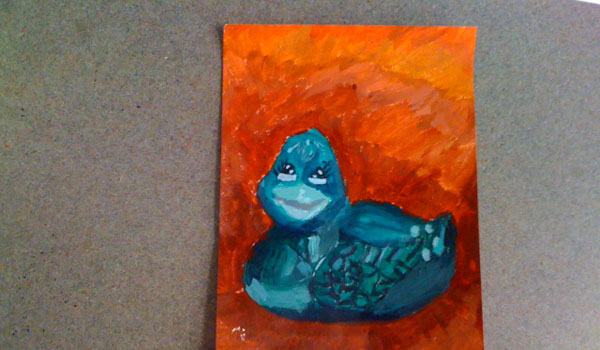 There has been an abduction on campus.
The kidnapping victim is approximately five inches tall, weighing roughly three ounces.  It is Senior Erin Patin's little blue duck.
The duck went missing from one of the art room cubbies about two weeks ago.  According to Erin, she was using the duck as the subject for an art project when it disappeared.
But this is no ordinary rubber duck! Before Erin started using this duck for school, the missing duck saved her life! This is the story of how the little blue rubber duck came into Erin's possession before using it for school.
"One day I was jogging around my neighborhood when all of a sudden a thunderstorm came out of nowhere," said Erin.  "Right as I turned the corner, rushing to get home, I saw something blue out of the corner of my eye. Curious, I went over to check and see what it was. Right after this, lightning struck in the spot I had just left! The little blue object SAVED MY LIFE and turned out to be my now precious blue duck."
Obviously, the duck has sentimental as well as artistic value, since Erin needs it to complete her art project.
A source has told Erin that the suspects could possibly be some underclassmen who might have abducted the duck.
When asked the plans on trying to find her blue rubber duck Erin replied, "I plan to make flyers with his picture on it, and if worse comes to worse, I will offer a finder's fee for the person who comes across it."
Anyone who has information about the blue duck is encouraged to contact Erin, Dean Renard, or The Authored Ascension.
Leave a Comment