Plan to Donate Blood on Friday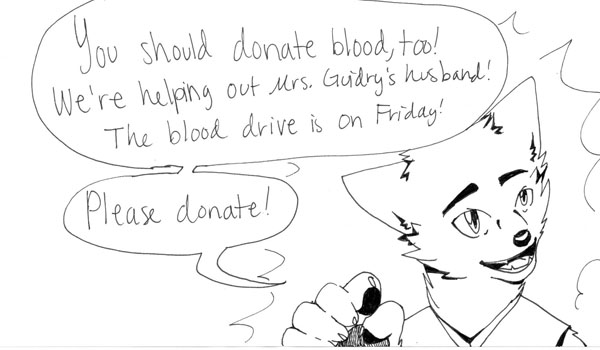 On Friday, September 9, 2011 there will be a United Blood Services blood drive held in the Cardio Room from 7:30 am until 4:00 pm. All students who are 16 and up and all faculty who are in good health are eligible to donate.
Donation credits for the drive will go to Mrs. Guidry's husband Cory, who was diagnosed with leukemia this summer.
Donors will get the satisfaction of helping others, but they will receive a few amazing prizes on this day. All donors will receive a gold, "Louisiana Gridiron" football shirt designed by local artist Tony Bernard, and donors will be entered to win a pair of Saints tickets and a 42″ TV.
Donors will also receive points in the "Hero in Me" online rewards store. Points can be redeemed for t-shirts, movie tickets, Baskin Robbins Ice Cream, DVDs, video games, and more.
New donor qualifications are as follows: the volunteer blood donors must be at least 16 years of age and be in good health. Donors who are 16 must have a signed permission slip from a parent or guardian.
Males between 16 and 22 years of age must be at least 5′ tall and weigh at least 110 pounds. Female requirements are a little more complicated. Each height under 5'6″ has a specific requirement: 4'10" must be 146 lbs.; 4'11" must be 142 lbs.; 5′ must be 138 lbs.; 5'1″ must be 133 lbs.; 5'2″ must be 129 lbs.; 5'3″ must be 124 lbs.; 5'4″ must be 120 lbs., and 5'5″ must be 125 lbs.
Unfortunately, our Blue Gator Football players will not be able to give blood because of the Ascension football game on Friday night against False River.
"Even if you can't donate on Friday, ask a parent or someone to donate for you," said Head Prefect Connor Day.
According to Mrs. Renard, the blood drive will be a class competition and the winning class will receive a pizza party.
Leave a Comment