Big Reveals, Carnival Games, Dedications Make for Memorable Picnic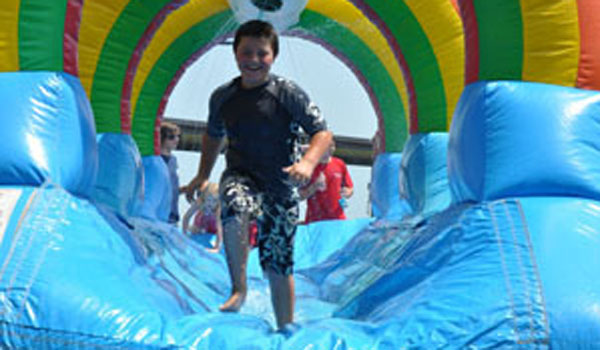 To say that the AES Family Picnic was a success would be a bit of an understatement.
This Saturday AES put on a PTA picnic to kick off the school year and gear up for the auction. It was a fun filled day with a cotton candy machine, snow cones, popcorn, fun jumps, face painting, and field games.
There was also an entertaining water slide and dunking booth to help cool off in the scorching heat. It was basically a Disney World for all the younger kids who were overwhelmed with how much fun they had to squeeze in in four hours.
Dr. Cox unveiled the new marquis that will be located at the entrance of the Sugar Mill Pond Upper School.
Another surprise at the picnic was the unveiling of the raffle prize for the upcoming PTA Auction in October. A brand new Mercedes was shown off to its possible recipients.  Tickets for the car raffle will sell for $20.
Darrellyn and Don Burts and Janice and Robert Copeland made a gift to the Opening New Doors capital campaign in support of the Sugar Mill Pond campus facility. In recognition of their generosity, the Board of Trustees granted the library loft naming opportunity to the Burts and the Copelands.
Mr. and Mrs. Burts chose to name the reading loft, which is located in the library at the center of the academic building, in honor of their grandchildren, Gregory Burts and Madeleine and Noah Justus.They say one reason they chose the loft space is because Greg is an avid reader.  Mr. and Mrs. Copeland chose to honor their daughter Beth Copeland.
"The generosity of the Burts and Copeland families is a great example to the whole Ascension community," said Dr. Cox. "This is the first of what we hope will be many dedication ceremonies at the Sugar Mill Pond Campus."
The plaque was installed and dedicated to Greg, Madeleine, Noah, and Beth on Saturday during the PTA Family Picnic, which Interim Headmaster, Dr. Lee Cox and Upper School Head, Dr. David Pitre  attended. Many more naming opportunities are in store for the academic building, competition gymnasium, and sports complex facilities.
Leave a Comment