Students Give the Gift of Life on Valentine's Day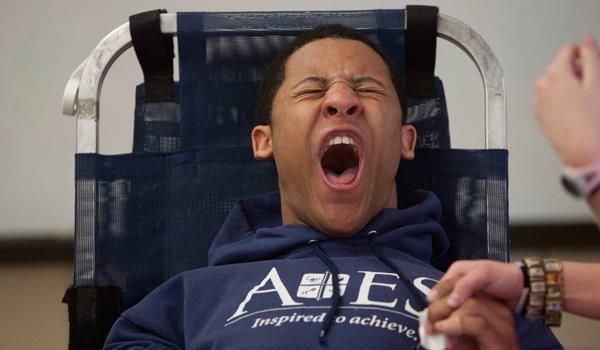 Upper School students, parents, and faculty gave from the heart on Valentine's Day.
In fact, they gave 30 units of blood at the student council-sponsored blood drive.
"We had 30 units of blood, and the United Blood Services were only expecting about 10," said Dr. Pitre.  "We were all very impressed."
United Blood Services set up the drive in the Upper School gym classroom where nurses drew blood from 8 a.m. to noon.  If a student was unable to give blood, Ascension asked that at least one family member give blood, whether it was parents or a sibling.
Seniors, juniors, and sophomores who were 16 and older could donate blood.  For some of them, the experience was draining.
"I felt very queasy," said Senior Dylan Duck after donating blood.  "I thought I was going to pass out."
Donors had the option to donate blood credits to 14-year-old Shelby Leonard, a Baton Rouge leukemia patient.  Leonard passed away last week, but according to WDSU.com, donations and credits in her honor are being used to help two-year-old Benjamin Cousins who has the same condition.
Leave a Comment