Gators Put Down Roots with Pilot Garden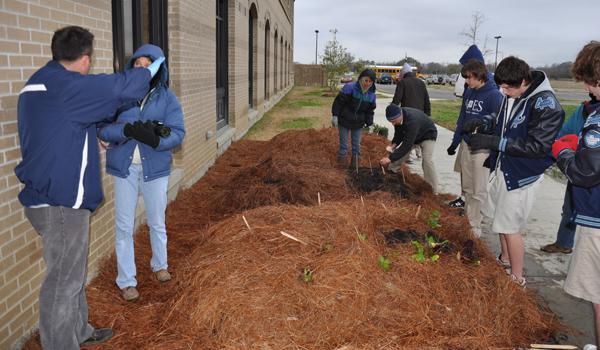 Students and teachers braved freezing temperatures and got their hands dirty early Thursday with the initiation of a pilot garden next to the upper school classroom building.
"It was cold! My hands were so cold," said Senora Garcia.  "But it was fun!"
The group, under the direction of Lorraine Billeaud of Billeaud Horticulture, planted 47 varieties of vegetables and herbs, including broccoli, cauliflower, potatoes, Swiss chard, mint, and rosemary in four of five prepared beds.
Go Green Sponsor Mr. Sierveld and members Davis Brown and Jerome Romagosa were among the gardeners.
"Do you know how to plant potatoes?" Mr. Sierveld marveled afterward.  "You cut them in half, and you stick them in the ground!"
The garden will serve a number of purposes on campus.  In addition to being a service project for the Go Green Club and a project opportunity for members of 4-H, it will also serve as part of an outdoor classroom for a botany elective that will be offered next year.
According to Coach Dardar, food from the garden will be harvested and used in the lunch program.
Mr. Sierveld added that the pilot garden is just the beginning.  Plans are to plant fruit trees on campus that could be harvested as well.
Leave a Comment