Lock-In Was the Key to a Fun Friday Night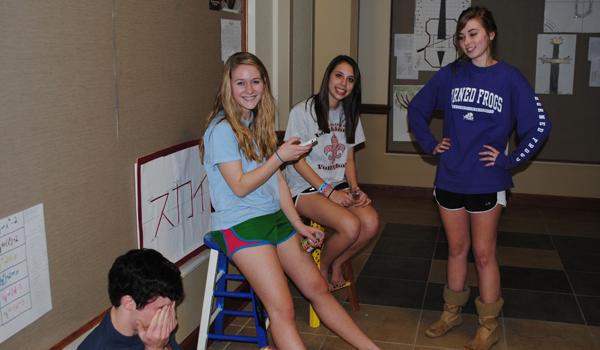 The place to be Friday night was the upper school lock-in.  More than 40 students spent the night on campus dancing, bouncing, and just hanging out.
"It was really fun.  We had a great time. I think everyone enjoyed it," said Junior Connor Day.
Mrs. Arabie and members of the student council converted the library into a giant rec room with a fun jump and an inflatable movie screen where students watched the Cotton Bowl followed by a movie marathon into the early morning hours.
"One of my favorite parts was just hanging out and watching movies on the big screen with everyone," said Connor.
Miss Woodward's room served as the site for one of the favorite activities, the Wii Just Dance competition.
"Wii Dance is the most amazing game ever made," said Junior Blair Fontenot.
Students caught Senora Reina, Senora Garcia, Miss Leblanc, and Ms. Fournet busting a few moves.
"The next morning, I went to Target to buy Just Dance II and The Michael Jackson Experience," said Ms. Fournet.  "What a great workout!"
The horror movie The Grudge played in Mr. Sierveld's room, but only students who weren't faint of heart saw it through to the end.
"I'm a wimp at scary movies," said Sophomore Anna Remondet.
An Xbox tournament was held in Mr. Case's room. Meanwhile, Mr. Case reffed impromptu basketball games in the gym until midnight.
By four a.m., the library was littered with popcorn, pizza boxes, sleeping bags, pillows, and slumbering bodies.  The party came to and end at 7 a.m. with a breakfast of donuts for all of the sleepy students and teachers.
Leave a Comment