Juniors Headed West for College Tour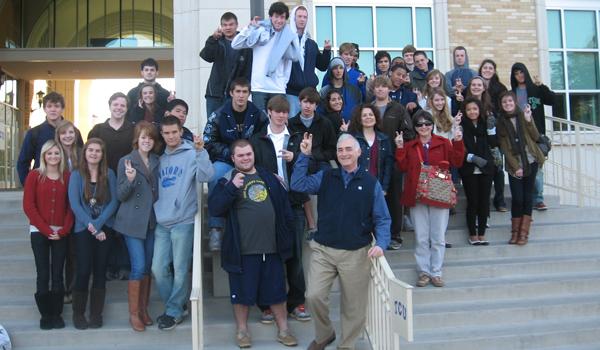 On Tuesday, November 16, the junior class left at five in the morning and headed west to visit seven different colleges over a four day period.  They returned home on Friday, November 19th.
On the first day, they visited Centenary College and Austin College.  On the trip, they also visited Texas Christian University, Baylor University, Southwestern University, University of Texas at Austin, and Rice University.
Centenary is one of the only schools in the country with two newspapers.  One is published in English while the other is published in French.  Since Shreveport is a growing film industry location, a popular major is media.  Two television shows are also filmed on campus.
Austin College is a small college in Sherman, Texas.  This is one of the few colleges where a student can actually design his/her own major.
TCU was a favorite of the juniors.  It is a beautiful campus located in Fort Worth, Texas.  The student population is about 9,000, so most juniors said that it is not too big and not too small.  Several said that it has great academic programs, and there is a lot to do in Fort Worth.
"TCU was my favorite college because it was all new buildings, especially the fitness center which was very big," said Mason Daigle.  "Also, the people seemed really cool."
Baylor is located in the town of Waco, Texas.  The university has an enrollment of about 14,000, so it is a little bigger than TCU.
Southwestern University has an enrollment of about 1,372 students.  The two most popular majors are Biology/Pre Med and Pre Law.
"There were these yellow bicycles at Southwestern University," said Blair Fontenot.  "They were donated to the school, and if you saw one on campus, you could ride it to wherever you needed to go.  You just couldn't leave campus with it.  Mason and Cole sat on one together."
UT has about 45,000 undergraduates.  The acceptance rate for out-of-state applicants is 40 percent although out-of-state students only make up about 10 percent of the population.
"I liked UT the most," said Sam Nguyen.
The juniors' last stop on their way home was Rice University in Houston, Texas.  The student ratio is 5:1, which was the best they saw on their trip.  The average class size is about 15 students.  Their study abroad features 500 programs in 70 different countries.
"From this trip I realized that I need to start getting ready for college by raising my GPA and ACT score," said Mason.  "I also liked to see what type of schools that I liked and realized that I prefer larger schools instead of small private schools."
Leave a Comment