Gators Take Manhattan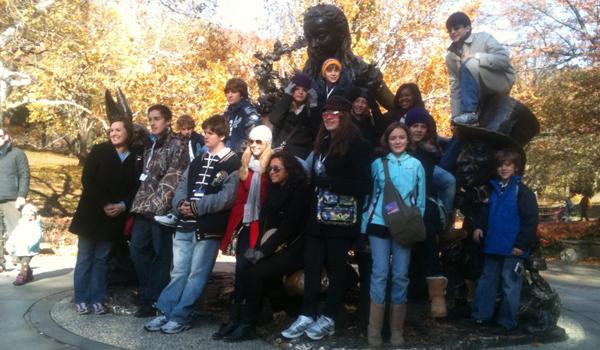 Broadway shows, broadcast studios, national treasures, and 5th Avenue.  That's where a group of 31 students, parents, and teachers from AES spent five days over the Thanksgiving break.
Mrs. Ann Chance organized and led the New York trip that was booked through WorldStrides.   Mrs. Chance has visited the city more than 50 times.
"One of my favorite things is to take people who have never been to New York," said Mrs. Chance.
The group left Lafayette from the preschool campus at 3 a.m. Saturday, Nov. 20 in a charter bus that took them to Louis Armstrong International Airport.  After a delayed flight to the Big Apple, the group toured Greenwich Village, Soho, and Chinatown, ending the day with a family-style Chinese feast at Amazing 66. The group stayed at The Manhattan Times Square hotel on 7th Avenue.
Sunday morning started with a made-to-order breakfast at the Cranberry Deli followed by a few hours spent at The Metropolitan Museum of Art where members of the group saw Van Gogh's Wheat Field with Cypresses, works by Jackson Pollack and Georgia O'Keefe, and Greco-Roman sculptures, among other masterpieces.
A walk through Central Park preceded a trip to Broadway where group members saw The Addams Family, starring Nathan Lane, Mamma Mia, and Jersey Boys.
The party ended the day at Bubba Gump's.
A tour of NBC and Rockefellar Plaza kicked off Monday's events.  The visitors sat in Jimmy Fallon's studio, saw the set for Saturday Night Live, and got to participate in a mock broadcast, starring Lauren Graham as the news anchor and Brett Chalpin as meteorologist.
Monday afternoon was spent shopping on 5th Avenue at FAO Schwartz, H&M, and Tiffany's, among others before the traveling gators saw the Christmas Spectacular at Radio City.
The Statue of Liberty and Ellis Island were the group's main attractions on Tuesday.  Later that afternoon while most of the travelers visited Wall Street, Taylor Beadle, a junior, and Hannah Robideaux, a seventh grader, took a side-trip with their mothers to visit Parsons The New School for Design.  Taylor, who is considering a major in fashion design, said that she was impressed with the opportunities Parsons gives its graduates.
"Once you graduate from Parsons, you're in," said Taylor.
The group ended its tour of the financial district at Ground Zero, stopping in St. Paul's Chapel, New York's oldest public building and the site of respite for scores of 9/11 rescue workers.  St. Paul's houses several memorials for the thousands of victims of the attacks.
"I thought that going into the chapel was really moving," said Senior Rachelle Mosing.  "Just looking at all the letters and pictures made me cry."
The travelers had their choice The Lion King, Wicked, and Phantom of the Opera for Tuesday night's entertainment.  Eighth grader Luke Jones said that The Lion King was one of his favorite attractions.
"It was so well put together," said Luke.  "It was amazing what those puppeteers could do."
On the last day in the Big Apple, some rose early to join the crowd outside the Today Show where Kings of Leon performed an outdoor concert and staffers handed out scarves with the band's logo.
Lunch at Grand Central Station, shopping at Macy's, and a stop at Columbia University rounded off the trip before the group crept through holiday traffic on their way back to JFK International Airport.
"It was an exhausting trip, but I can't wait to go back," said Ms. Fournet.
Leave a Comment