Parting With Ascension
I've been at Ascension for 15 years now. I've made tons of friends and memories, but now it's time to go my separate way. So, for my last article, I wanted to reflect on my favorite memories I've made here with my friends. As a grade, where most of us have been here since Pre-K, we've made lots of memories together. And we have a lot of memories together. But, as we graduate, we're always reflecting on our favorite memories. So, to switch things up, I thought I might ask our teachers what their favorite memories of us are, since they've had us in class for awhile now.
Mrs. Bourque said, "The entire fall junior trip experience and becoming an Auntie to a great group of students!"
Mrs. Lobello said, "Whether I have known you for thirteen years (watching you play on the playground during River Ranch preschool days), five years (welcoming you to SMP for 8th grade), or one year (those of you who are new to our Blue Gator crew for your senior year), what remains the same is how deeply I love your class. I do not have just one memory that stands out, but rather I cherish so many of the small moments with you. The laughter (and sometimes tears), the crazy stories you told me (and maybe shouldn't have!), the complaining (so much complaining…lol!), and the hugs (those were the best of all!). Sharing in your days and witnessing each of you struggle, learn, fail, succeed, and grow has been my pleasure. Thank you for ALL of the memories, and please keep in touch and come back to visit (especially for alumni events). Go Gators!!!"
Mr. Shome said, "I always enjoy walking the halls and talking to the seniors, seeing how they're doing. Whether I've had the pleasure of being in the classroom with them or not, it makes my day to cross paths and tell them hi and to catch up on how their day is going. It was also fun to see them at any of the events outside of school, whether they're playing or performing or cheering on their friends, it's so nice to see them being so energetic and supportive. I'm also going to miss the seniors who were in journalism this year, particularly hearing about everything that is going on in their class! I'm very hip-hip-hop now because of them. Also, particularly, I appreciate all of the seniors who gave a message during chapel. They were all so meaningful."
Mrs. Hesterly said, "When Ella Dupuie happily compared herself to Machiavelli. And when Sonny Brasseaux stopped class to share with all of us how his dad was in a movie called Ghost Shark."
Mrs. Poynot said, "8th grade science and 10th grade Bio. IYKYK! I have lots of great memories of the Senior class. I love them all and will miss most of them."
Mrs. Guidry said, "During an Art I class, a student, let's call him "Steve," received a, not so great grade on his self-portrait. "Steve" knew in his heart that he could do better so he asked for more time. He began working incredibly hard on his drawing. Steve put much so much effort into his project and brought up his average. As an outcome, he really captured the likeness of himself and it looked exactly like him. "Steve's" self-portrait became an icon in the art studio. Long live "Steve." So sad to see you go!"
Our teachers have shaped us into who we are today. We spend so much time with them and learn so much from them, it's nice to hear how we have made an impact in their lives as well. As I write my last article for Ascension, I want to close out with a thank you to those teachers. Thank you for teaching us lessons, whether it be a life lesson or a class lesson, and thank you for your patience with us. I couldn't have even written this article without our teachers! We appreciate you all so much!!
Leave a Comment
About the Contributor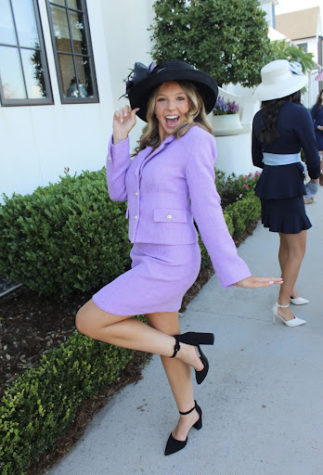 Aubrey Womack, Staff Writer
Hi y'all! I'm Aubrey Womack, and I'm a senior! I've been at Ascension since Pre-K 3, and this is my first year in Journalism. I've been involved in a lot at Ascension, such as being a part of Cheer, Cupcakes for Causes, Leadership, and being the Girls' Basketball Team Manager. I like to hangout with my friends and constantly rewatch
New Girl.
I'm so excited to be a part of the Journalism team this semester and can't wait to see what the year brings!