Ascension's Favorite Memories with Coach Celie
On March 6, 2023, Ascension students and faculty received the sad news that Coach Celie Ulm had passed after her battle with cancer. Coach Celie was a friend and mentor to everyone. We asked Ascension students and faculty to share their favorite memories and stories with or about Coach Celie.
8th grader Chloe Scheuest said her favorite memory of Coach Celie was, "When I went to one of Coach Celie's volleyball camps, she gave us the perfect balance of making it challenging and fun. She gave people encouraging words that made everyone feel seen."
An 8th grader said their favorite memory with Coach Celie was, "talking to her all about hunting and fishing."
9th grader Elle Bradley said her favorite memory was, "After a volleyball game everyone left. I was upset with how the game went and how I played. I was walking out of the gym and Coach Celie stopped me and asked me how I thought the game went. We talked for almost half an hour and after she said 'No matter what you face, you should always keep your head up.' After that day any time she should see me walking in the halls or during practice she would remind me to keep my head up. The last day I saw her, she gave me a big hug and said 'Always keep your head up sweet girl.'"
Grace Yeates, a freshman, said her favorite memory with Coach Celie was, "On orientation day, my mom dropped me off early and she saw me, brought me into her office, and gave me pizza until it started."
Ava Bourgeois, 9th grade, said, "She was my act advisor and she complimented me and when I was eating alone, she offered me to eat with her."
Freshman Shleby Godwin said, "My favorite memory of Coach Celie was in PE my 8th grade year. She decided to walk with us to Twins. It was our last PE class and she promised she would take us for a treat and she did. Me and her were able to have a long and meaningful conversation there and on the way back. I loved being able to talk with her while we had our treat, especially since it was the last class that day."
10th grader Eliie Babineaux said, "My favorite memory of Coach Celie is during my freshman year me and Abbie Hebert would go to fill up our ice during math class and she used to always talk to us and let us sit with her for as long as we needed everyday."
Jackson Devey, 10th grade, said his favorite memory of Coach Celie was, " Last year while we were playing basketball during break, Coach Celie started to play with us and blocked Mark's shot into the bleachers."
Sophomore Beau Domengeaux said, "The thing that always stuck out to me anytime that I talked with Coach Celie is how much she cared about the little things. I cannot think of only one good memory I have had with Coach Celie because there are too many to choose from. Whether it is after football games, walking down the hall, in the gym after school, or helping me get into a volleyball game, Coach Celie was always there with a smile on her face. She was not my teacher or coach in any way and she really had no reason to do any of the things that she did for me other than how much she cared for every single person she met. Despite all the hardships that she was going through she never blamed God and always pushed people towards Him and is someone who we should all strive to be like one day."
Molly Cormier, a 10th grader said, "One of my favorite memories of Coach Celie is when she stopped me in the hallway to tell me I'm an amazing dancer. She came to all of our dance team show offs and pep rallies with her daughter, Tenley, who said she wanted to be a dancer because of Gator Jazz. Coach Celie had so much respect for us and told me how she could tell how much passion and hard work went into our routines. She always enjoyed and encouraged us and even made us little goodie bags as we went off to Nationals last year. I'm so grateful for all of the support she gave us. She was one of the most genuine and kind people I know."
Sophomore Gracie Bourque said her favorite memory of Coach Celie was, "One time I fell at school and the next day she pulled me aside to make sure I was okay."
11th grader Chloe Ste. Marie said her favorite memory was, "She would always let us walk outside and listen to music in PE, which made me actually NOT dread it."
Gabby Piasecki, 11th grader, said her favorite memory with Coach Celie was, " One morning, we had workouts and she let us go outside and watch the sunrise before running stadiums. She had given us a talk about taking life slowly and enjoying every moment we have in life while we watched the sun rise."
Junior, Caroline Ortemond said, "My favorite memory with Coach Celie is when I was having a rough day, she comforted me and made my day better."
11th grader Briana Gayle said, "I have a lot of sweet memories with her like all of the times I've missed class to go sit in her office and talk, but I also have funny ones. She was always very reckless and would remember that she's vincible after the fact. Fortunately, it was never too bad and made for pretty good stories. One time, a few of us were in the locker room when she came running in with what looked like a giant pipe, elbow deep, on her arm. She's usually pretty calm but she was frantic because it wouldn't come off, so she's trying to stick her arm under the faucet and pumping soap to get it to slide off. Imagine me, pulling it with both arms, while she's trying to pull the other way without detaching her arm from her shoulder. Apparently, she was trying to get something out of the holes that the volleyball net poles go into, so she stuck her arm in it and pulled up the whole lining. There's actually a picture of it, and it was way funnier if you were there. These sorts of things happen regularly and I'm really grateful to have witnessed them, mostly for the laughs."
Ryan Simon, junior, said, "My favorite memory of coach Celie was when she found out I was finally cleared to play by my doctor and she started screaming and slapping the table in the trainer's office and she almost started crying she was so excited and she would run out of the office then run back in because she thought I was joking with her and when she found out I was telling the truth she started jumping up and down again and I don't think anyone has ever hugged me as hard as she did in that moment."
Senior Aubrey Womack said, "The first time I met Coach Celie was during my Independent Study last year. She was the first adult to ask about what I wanted to do with photography, and even asked if I would take pictures of her girls. We sat and talked for 30 minutes, and it was an amazing first impression of such a great person."
12th grader Madeleine Sorrell said, "The many, many rides home from volleyball games. We would often talk with her about life, volleyball, and school, and she would sometimes let us stop at a gas station or at Sonic to buy food. she shared with us stuff about our life and would overall just make the bus trip much more enjoyable."
Maddie Raxsdale, senior, said her favorite memory with Coach Celie was, "When we were doing Rosencrantz and Guildenstern, I remember how excited Coach Celie was to see Madeline after the show. We were trying to change, and she was just waiting at the door eager and chipper. She also would always ask me if I was ok when I was crying in the hallway during eighth grade. She had no reason to but would always check up on me."
Badger Hargett, 12th grader said, " My favorite memory of Coach Celie was when we were doing football routes in the gym during break. Coach Celie started playfully smack talking to us and began guarding us. Obviously, we forgot how athletic she was because she blocked a majority of the passes. Her ability to have fun in any situation and live in the present moment everyday really stood out to many."
Senior Sarah Katherine West said, "My favorite memory of Coach Celie is when she told me once that if I hear my name around, that someone asked her if she could have had anyone on her volleyball team who doesn't already play, it would be me. She told me she told them she said me, because she loves my grit and competitiveness and feels that I'm a hard worker. That day I was having a bad day and she didn't know it but her telling me this made me feel special and made my day. "
12th grader Norman Brown said, "My favorite memory with Coach Celie is playing Wordle against her."
Greta Leoni, a senior said, "My favorite memory of Coach Celie was when me and SK West walked in the gym to organize the cheer closet and she was on roller blades because someone in her PE class brought them. She was talking to us about how she roller bladed in high school and wanted to try it again because it has been so long. So she was rollerblading around the gym and realized she didn't remember how to stop so she ran into the cheer mat going full speed to stop herself."
Coach Whitt said his favorite memory of Coach Celie was, "When she brought my son Brooks to me when he returned from Baghdad."
Mrs. Acevedo said her favorite memory was, "After seeing me at Newk's eating alone, Celie said she felt bad about it; she didn't want me eating alone. The next day, she texts me…'do you like shrimp?' I said, 'yes!' She said, 'meet me in the gym!' I get to the gym and we walk back to the refrigerator. She had the biggest Celie smile on her face as she presented me with what looked like a 50lb bag of shrimp. I was delighted, of course and Celie said, 'I don't want you eating alone.'"
Coach Bill said his favorite memory of Coach Celie was, "When Coach Celie first got here she came to me and said she used to come to my house when she was a young girl and play football with my sons. She said we had the big white goal posts and she thought that was so cool. Naturally I'm too old to remember that, but the fact that she would and tell me about it really touched me. Celie will always have a place in my heart and will be so missed."
Coach Trotter said his favorite memory, "Like many others, there were a couple of times where Coach Celie just randomly asked me what kind of smoothie or juice I wanted, and then went and immediately got one for me. Such actions testify to just how often she was thinking about doing things for others. She did those kinds of things constantly, for so many people. I also really valued the conversations we would occasionally have, usually about coaching, and specifically about player motivation and management. She challenged me, both by her thoughtful ideas and the passion and sheer energy with which she expressed and then consistently executed them. But perhaps most of all it was her intentionality. No telling how many times I saw her talking one on one with her players — encouraging them, challenging them, pulling the best out of them (and, really, anyone who happened to find themselves around her). She was a master motivator, and an inspirational coach and human being, all the way until the end of her earthly life. Simply put, I admired her greatly. And I know her witness will keep inspiring us onward for the better."
Mrs. Ladmirault said her favorite memory with Coach Celie was, "I had an upset stomach so I went to Sonic before school to get Diet Coke. At school, I took a sip and realized they gave me a Coke. Being on insulin, I needed a diet and griped to my students. One of them must have told Celie because during my next class, she showed up with a Sonic diet Coke for me. She was always helping others, and I miss her terribly."
Though Coach Celie was only part of the Ascension family for 2 years, she will always be a Blue Gator. The impact she left on the school will always be remembered by the Ascension community.
View Comments(1)
About the Contributor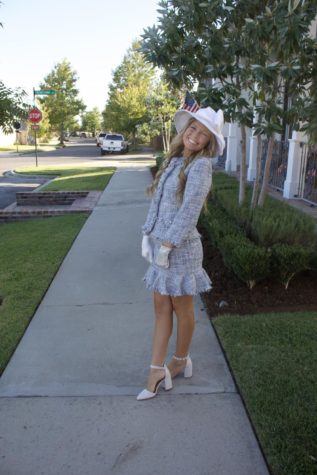 Greta Leoni, Assistant Editor
Hey, y'all! My name is Greta Leoni, and I am a senior this year. I have been at Ascension since Pre-K3 and during those 15 years, I have been a part of the cheer, basketball, and volleyball teams. I also have been a part of clubs such as Cupcakes for Causes and Beads for Needs while at Ascension. I enjoy hanging out with my friends and family, watching movies, and shopping. This is my second and last year in Journalism, and I am so excited!