New Developments in the Area
As teenagers, we are constantly bored and looking for things to do and new things to try. Luckily, Lafayette is booming and has many new restaurants and stores coming soon for our enjoyment. Here is a list of my most anticipated upcoming developments in the Lafayette area.
Villagers Cafe: If you don't know Villagers Cafe from their Maurice location, they have amazing sandwiches and homemade fries.

Dave and Busters: Dave and Busters is one development that I am thrilled about, and it's time that we get a location here. Lafayette does not have any really good arcades for teenagers (every "arcade" in the area is for little kids, and it's time Lafayette is starting to think of its teen population). 

Top Golf: Top Golf is an interactive family fun experience where you can play golf from a ledge and laugh with your loved ones. They have great food and you are guaranteed to have a fun time. 

Jet Coffee: A two-story Jet Coffee is being developed near Costco, where you can meet all your caffeine needs. 

Kasai: Kasai is a steak and sushi restaurant that will be built near the Costco area. 

Mochi Doughnuts: Mochi Doughnuts brings a new spin to your normal doughnut. These doughnuts are made with mochi instead of normal dough and come in cool shapes. It is certainly a step up from your typical breakfast.

Kid's Gym: We Rock The Spectrum accommodates kids on the spectrum and kids not on the spectrum

Asian Palace: This new restaurant is guaranteed to blow your taste buds away with its Mongolian food.

Bath and Body Works: When your house is smelling bad and you need a candle, look no further. In Lafayette, no one wants to go to the Bath and Body Works's mall location, so you can look forward to a new location.

The Peach Cobbler Factory: Looking for something sweet? This restaurant has the best pies, and is going to be built in Scott.

Iron House Gym: Want to lose some weight from eating all this new food? Look no further than the Iron House Gym. 

 Superior Grill: We already have a location near school, but you can never have enough Mexican food in your life.

French Press: Gourmet cooking at its best! They're opening a new location on Ambassador in addition to the original location in Downtown Lafayette. So good!

Acadiana Gel Soft: Looking for an alternative, less painful form of paintball? Look no further. They offer a fun game set up where you can play against your friends 

The Cookie Door: I'm sure everyone will be excited to see a new restaurant that serves homemade cookies made with love!

Painted Bayou: This is an artist studio where you can make ceramics and channel your inner artist. 

Public Dog Park: Does your dog ever get tired of its yard and need friends? Look no further than the new dog park being built.

Wing Stop: Are you obsessed with wings? Are you Mr. Shome? If you want to send your

tastebuds to flavortown, this is the restaurant for you.

Sports Academy: Are your knee pads busted or footballs deflated? If you need sporting goods, this is your go to stop.

Coffee Weed Cottage: This place is a book worm's paradise: selling coffee, books, and home goods. This is the perfect place for a rainy afternoon.

Jersey Mikes' Sub: This is opening near Costco and is going to have the best sandwiches in town.

 Waffle House: Waffle House will be the ultimate breakfast place in the area. It's located near school, and it's almost done being built!

It's a Cookie: This is a cookie sugar decorating studio. If you ever want to take your desserts to the next level and make them works of art, come here with your friends and family.

Ever Bowl: Are you trying to be trendy like the Californians? This acai bowl joint is sure to rock your world.

Crumble: If you didn't think one Crumble was enough, then try two!

Viva la Waffle: They have amazing chicken and waffles, and I can't wait to see more of them.
Many thanks to Developing Lafayette for providing the information! Please check their website here: https://developinglafayette.com/
Leave a Comment
About the Contributor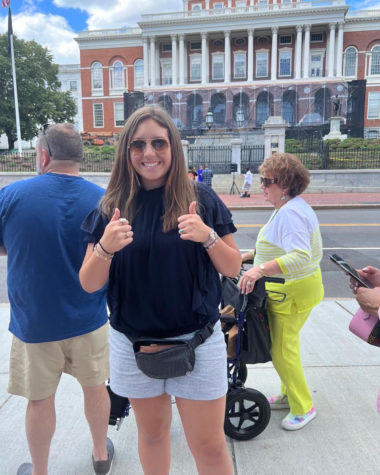 Caroline Ortemond, Assistant Editor
Hi everyone! My name is Caroline Ortemond. This is my second year being a member of Journalism. This year I am an assistant editor, and I love my journalism team. I am a member of the basketball and softball teams. I enjoy reading, writing, and art. I love Ascension and all of its opportunities. I am the co-founder of a club and a member of multiple youth groups. I can't wait to see what this year has in store for the Journalism group.