A Tribute to Ms. Chiocchi
Throughout every student's educational journey, they will find teachers who are wholly dedicated to their students' successes, who are passionate about their subject and wish to share their knowledge, who leave a lasting impact on their students. One such teacher is Ms. René Chiocchi. Ms. Chiocchi unfortunately passed away on March 20, 2023, and the Ascension community of parents, teachers, and students is united in mourning her tragic loss. 
Many students remember Ms. Chiocchi best for her impeccable taste in fashion. Senior Kate Jones said that her favorite thing about Ms. Chiocchi was "her immaculate sense of style!" She was known to make many students happy when they got to "see her stylish outfits every day," and many enjoyed, "her sense of style and colorfulness—literally and figuratively—whether in the classroom, the stadium, or the fashionable clothing and hats she donned on a daily basis." 
Junior Seher Tejani said that she "enjoyed seeing Ms. Chiocchi in her fashionable outfits—her multicolored top hats being my absolute favorite accessory. She had a unique and elegant sense of style as she walked the halls and drove away in her car with her name as her license plate."
Other students simply loved Ms. Chiocchi for her effortless ability to care for every student. Eighth-grader Alexander Ikner lauded about how she "was always very kind to everyone, even if she had to go out of her way to do so." Junior Zachary Price mentioned his love for "how we would always converse with each other in the halls." 
One anonymous student talked about the personal connection that she had developed with Ms. Chiocchi, lovingly saying, "The weekend before she passed away, she finally went to Bonne Vie Macarons. She was so excited about it! She said when I go back, I'm going to buy out the whole store."
Students also made sure to mention Ms. Chiocchi's love for her dogs, as she always seemed to be talking about how amazing they were. Her students loved it  "when she would talk about how much she loved her dogs." Freshman Mary Frances Durio said that her favorite memory of Ms. Chiocchi was "when she would talk about her dogs and how much she loved them. She thought of them as her children—that's how much she loved them."
Another thing that students loved about Ms. Chiocchi was hearing her tell stories about her crazy experiences in life. Sophomore Molly Cormier said that she loved "when she told us about how she was on the LSU Golden Girls dance team."  Ms. Chiocchi would also jokingly tell her students to "be careful because she had a blackbelt in karate."
"One of my favorite memories of Mrs. Chiocchi is when she told my math class about all the things she used to be. She was the starting point guard for her high school…a basketball coach, a piano player, and so many more things." Students had so much fun learning about all of her different lives.
She was loved for her desire to make school fun, often letting her students play games as a class. They  also loved "how she let us play heads up seven up from time to time," and they enjoyed "when we played the memory game in her class," and  "the day we played a game she created. It was really fun, and she was a great teacher." Eighth-grader Charlize Rougeou said that her favorite memory of Mrs. Chiocchi was when "she would sing silly songs," and eighth-grader Isabella Malespin mentioned how Ms. Chiocchi would "sing the banana song to us and try to put our names in it!"
Eighth-grader Ava Trawick spoke of how Ms. Chiocchi wanted to make education fun, saying that she "would encourage us to have a party for small holidays in advisory. She would always be the first to volunteer to bring cookies or pizza. I loved our talks about her dogs and her furniture reupholstery. All in all, she deeply cared about her students and I am so sad she had to go so soon."
In one class of three students, "she would just be relaxed and talk sometimes. We talked about music, games, and life. Ms. Chiocchi will greatly be missed and a hole now must be filled in our class. We will remember and carry on for her. I loved her class—it was fun and silly. Even though she might have been tough to some, she was a kind and loving person who just wanted to do good and get home to her two pets and relax." 
Ms. Chiocchi was also beloved for her dedication to her students in the classroom: "My favorite thing about Mrs. Chiocchi was how funny she was and how entertaining she made our math class. She was also very understanding for the students in our class." 
Another memory from one of her students: "I will always remember Mrs. Chiocchi as someone who sincerely cared for her students and showed special concern for those who were struggling. She was honest and sincere, and she worked hard to help her students." 
"There were so many things I loved about Mrs. Chiocchi. I loved how she was so unique; I've never met anyone quite like her. If we were confused in class, she wouldn't move on until we all understood how to do the concept we were learning at the time. She was also great at answering any questions we had, no matter how complicated they were. Mrs. Chiocchi will certainly be missed." 
Eighth-grader Isabella Malespin's favorite thing about Ms. Chiocchi is "how she always had such a great attitude and love for teaching! Mrs. Chiocchi never failed to make me laugh and cheer me up when I was sad." 
"She would always talk about her passion for teaching and it was evident. With her quirky and fun attitude she would always bring extra personality to the classroom," said eighth-grader Ava Trawick. 
Another eighth-grader, Natalya Grant, sadly said, "Mrs. Chiocchi will certainly be missed at Ascension. I love how she was so passionate about math and her students. She was always such a sweet, unique, and welcoming personality. My classmates and I will miss her greatly."
Ms. Chiocchi left not only a lasting impression on her students, but also on her fellow faculty members. Coach Whitt said that his favorite thing about Ms. Chiocchi is that she would "call me Mr. Coach Whitt and say hello to me every time she saw me."  
Ms. Nowicki recounted, "She was always cheering for all student events in our faculty GroupMe. Dance team, football, cheer, soccer, baseball, basketball, track, golf, you name it…she was always a big fan." 
"I enjoyed Mrs. Chiocchi's visits in the early morning or at the beginning of lunch. She used to pop up in my room just to chat," Madame Cheramie reminisced. "I miss those visits."
Ms. Palmer eagerly shared, "Every day, my daughter and I pulled up at exactly the same time as Ms. Chiocchi. It didn't matter if we were running late or we were early, somehow we were on the same schedule and she and I would laugh about it and usually walk in together. She was a dedicated teacher and she genuinely loved Ascension, her students, and her subject. I would see her at games, and she was so supportive. She was always commenting on our teacher GroupMe and sometimes she was pretty funny. She was independent, smart, tough, and kind of quirky." She went on to say, laughingly, that Ms. Chiocchi was "TERRIBLE at PARKING! She parked crooked in the senior lot every single morning. It made me feel better about my own parking that was sometimes over the line or a little crooked." Ms. Palmer closed out her statement with a random anecdote, saying that "there were a few times that I took the elevator with her and I liked her perfume :)" 
Though Ms. Chiocchi was only a member of the Ascension family for a short time, her impact on this school and her students will be seen for years to come. She permanently and positively changed the math department at the Sugar Mill Pond campus, and her passion for teaching, her fondness for fashion, her love for her dogs, and her fun-loving spirit will be remembered by her students for the rest of their lives.
View Comments(1)
About the Contributor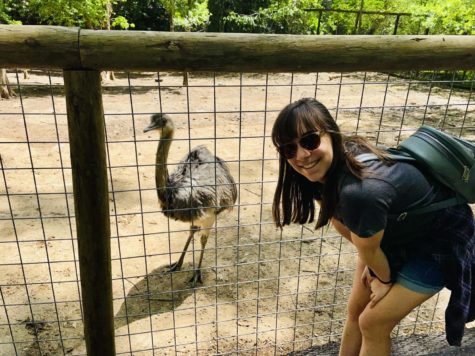 Ella Dupuie, Editor-in-Chief
Hey guys! My name is Ella Dupuie, and I'm a senior this year. I've been at Ascension since 5th grade, and have loved every minute of it. This is my third year writing for the Authored Ascension, and I am the editor-in-chief of the Authored Ascension and the yearbook! I am on the Ascension swim team, and in my free time I love to read and binge TV shows on Netflix.