Looking Back at Basketball
It is crazy and extremely sad that basketball has officially ended for the seniors. I have been on the team since 6th grade. I've been playing with the same girls for seven years, which is absolutely amazing. I've made the best memories while being on the team. Middle school basketball was never that serious, but moving into high school basketball, things were definitely different. Our team persevered through some challenging times, and to be on the team was so worth it. My favorite memory is when we beat Delcambre on their senior night. We were not meant to win, but we came in ready to fight and had a major upset. This game was super intense, but the team fought hard and won 41 to 38. We were all so happy and proud of our team. The girls' final record was 11-14! 
I asked some of the seniors about their time being on the basketball team. Maddy Justus has been on the team since 5th grade and has grown into a strong player. Her advice to the younger players is to just have fun playing because at the end of the day, that's all it's supposed to be–fun. Her favorite memory while being on the team is when Coach Trotter challenged us to do our best and allowed us to have our own practice. Lauren Martin has also been on the basketball team since she was in 5th grade. Her advice she would give to the underclassmen would be to have a positive outlook. Her favorite memory while being on the team is when we were playing a home game. She had just gotten her eyes dilated and had sunglasses on. Coach Trotter put her in the game, and the ref called her blind because she could barely see. She wants everyone to know that they should have fun and make the most of it because time flies! 
The boys had an amazing season this year with a final record of 22-12. One of the seniors, Luke Guidry has been on the team since 5th grade! The advice he would like to share is to have confidence and always be relaxed while playing. His favorite memory while being on the team is when they made a comeback against West St. Mary, beating them in district this year, on his birthday. After the wonderful win, they picked him up and sang happy birthday! A quote he wanted to share is by Kobe Bryant, which says, "No matter how difficult the challenge is, always stay positive and believe in yourself." Josh Lugo has also been on the team since 5th grade. His advice for the younger players is to look intimidating and that size doesn't matter, as long as you work hard! His favorite memory is when he hit a half court shot with a headband on. 
Leave a Comment
About the Contributor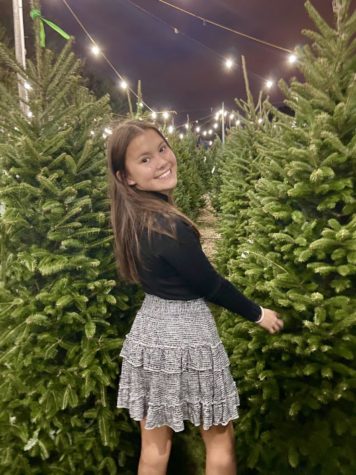 Ana Brauns, Staff Writer
Hey y'all! My name is Ana Brauns. I'm a senior at Ascension and have been here since Pre-K 3. During those years I have been a part of the basketball, soccer, volleyball and tennis teams. This is my first year in Journalism, and I can't wait to see what it brings! I have been involved in the clubs Beads for Needs and Cupcakes for Causes. In my free time, I enjoy hanging out with friends and shopping. I am so excited to be a part of the Journalism class!!