A Peek Into College Life
Over Mardi Gras break, I visited a few Lafayette girls that went to Ole Miss. I drove up with two girls that go to STM, and we hung out the whole weekend. We got in town Friday around 4 o'clock, and went to see our friends in their dorm. They live in Crosby, an all girls communal dorm, so it was interesting to see what that was like. They used the space to their best ability and managed to make their tiny dorm look big! We went to get sushi for dinner, and it was genuinely the best sushi I've ever had. So if you like sushi and you're ever in Oxford, I highly recommend Kabuki!
Saturday, though, we managed to do pretty much everything we could. We went to breakfast at Heartbreak Coffee in the Square, and then went shopping for a while. They have so many stores, from Caroline and Company dupes to a ton of River Ranch Boutique lookalikes. Then, we went to lunch at Opa in the Square. It was the best Greek food I've had in a long time, and could easily be compared to places like Zeus and Zorbas. We then went to the baseball game for a little bit. They were playing Maryland and ended up winning! We hung out in the dorm for a while, and then finally went to a "progressive dinner."
Each sorority has a neighborhood for their members to live in during their sophomore and junior years, where there are a bunch of houses that fit 3 to 4 girls. Each girl gets their own bedroom and bathroom, and then they have a living room, kitchen, laundry room, and a cute little screened in porch. In this "progressive dinner," you go to three different houses, and meet a bunch of different people that are possibly going to Ole Miss as well! And of course you meet a bunch of girls already at Ole Miss, and they can tell you about their experiences.
I had the best time in Oxford, and I met so many interesting people. From my short peek into college life, I learned from these amazing people that:
As a girl, living in either Martin or Crosby, the all girl communal dorms, it's the best experience because it's like a big sleepover every day.
The communal bathrooms aren't that bad, you can find times where there's no one in there and make that your set bathroom time.
If there's ever a time you need an outfit, obviously you have plenty of places to buy clothes from, but there are a lot of girls that rent out their clothes, too!
There are plenty of places to eat, and so many options for whatever mood you're in, but there's also lots of opportunities to have meals with your friends and new people.
Parking is a pain, but the plus side of that is you can walk everywhere, which is the easiest way to battle the "freshman 15."
Finally, if you are even thinking about venturing out and going somewhere that'll bring you out of your comfort zone for college, go with your gut and do it. You'll have plenty of opportunities to see your friends from high school, but you'll also have plenty of opportunities to meet new people that could easily become your best friends.
Leave a Comment
About the Contributor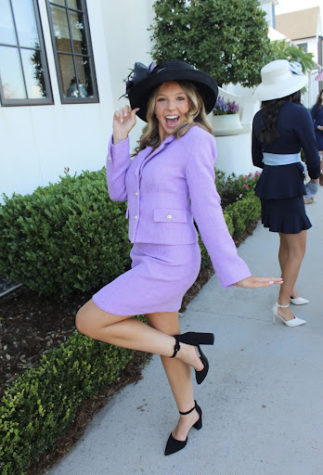 Aubrey Womack, Staff Writer
Hi y'all! I'm Aubrey Womack, and I'm a senior! I've been at Ascension since Pre-K 3, and this is my first year in Journalism. I've been involved in a lot at Ascension, such as being a part of Cheer, Cupcakes for Causes, Leadership, and being the Girls' Basketball Team Manager. I like to hangout with my friends and constantly rewatch
New Girl.
I'm so excited to be a part of the Journalism team this semester and can't wait to see what the year brings!