A Tribute to Mr. Anderson
Teachers and coaches come into our lives, and the best of them leave an indelible mark. Mr. Richard Anderson was one such teacher. Sadly, Mr. Anderson passed away on Monday, March 6, 2023, and his Ascension family, made up of former students, parents, colleagues, and friends, will remember him fondly and miss him greatly.
Mr. Anderson joined Ascension's upper school math department in the fall of 2016 after retiring from teaching in the Lafayette Parish Public School System. Over the years here, he taught all levels of geometry, probability and statistics, and AP Calculus AB. He retired from Ascension in the spring of 2021 after teaching more than two hundred Blue Gators.
Jack Leoni, Valedictorian for the Class of 2018, hailed Mr. Anderson in his commencement speech, saying that Mr. Anderson was the best teacher he'd ever had. Jack's brother Ethan Leoni, Class of 2020, said, "He enjoyed us learning more than anything. His face would light up when one of us would ask a question or if a student said 'ohhhh,' finally understanding a concept."
 Christian Deville, Class of 2018, recently said, "I was truly blessed to have Mr. Anderson as my teacher. Mr. Anderson spent countless hours of his personal time tutoring and mentoring his students," Christian said. "He was an amazing educator and an even better person. His character, dedication, and positivity made it a joy to come to his class. It was an honor to learn from Mr. Anderson, he will be missed dearly." 
Senior Luke Guidry summed up his teaching style. "He was just very gentle and always wanted to help us students," said Luke.  "He was very even-keeled and wanted the best out of all of his students."
Ascension parents echoed praise and gratitude for Mr. Anderson. "As the mom of two very different students," said Ms. Stephanie Ortego, Ascension's Special Events Coordinator and mother of two alums, "Both Sidney (Class of 2019) and Eli (Class of 2021) hold Mr. Anderson as one of their favorites. He was a smart man with a gift in the way that he shared his knowledge of math with students. A true gem of an educator."
By all accounts, he made learning math fun. "Don't drink and derive," Mr. Anderson was fond of quipping.
Courtesy of Quinn Billeaud and Grace Sheets, Class of 2019, a series of Snapchat images featuring Mr. Anderson's iconic humor shows how he made math more than fun. He made it "magical."
One image shows a grinning Mr. Anderson sporting one of his signature ties in front of his timeless chalkboard. "This is my favorite lesson. It's delightful. It might even be magical," the quote says.
Mr. Anderson was a man who created unforgettable relationships with his students. This was evident at every senior event night, when his name came up again and again as a favorite teacher. His dedication and love for teaching was always obvious. 
"My most vivid memory of Richard has to do with the time the seniors got into the school for their yearly prank.  Many teachers' rooms were really bad, but in his room, they left a huge vase of beautiful flowers," said English teacher Ms. Karen Ladmirault. "He was loved and respected."
His colleagues will miss his quick, dry wit and his endearing humility. While he often poked fun at himself and many of his jokes sailed right over the heads of his students, his own smile made his eyes twinkle, and it had the power to lift every heart in the room. 
"I can't think of Mr. Anderson without thinking about Hector the cat, his signature cartoon character that would appear on returned Geometry tests and homework assignments who loved math and math students, just like Mr. Anderson himself," remembered Ms. Caitlin Neal-Jones, former counselor at Ascension. "I'll never forget the day when I was coping with some setbacks and trying to be strong and silent about it, and a drawing of Hector the cat appeared on my desk telling me how much he believed in me. I couldn't express to him at the time how much that drawing meant to me, but it was certainly the best thing that happened to me that week and a memento I'll always keep. Hector represents the best qualities of Mr. Anderson—the joy he felt when a student connected with math concepts, his belief in the potential of others, and his effortless cool-ness."
Photography teacher Mr. Gerald Sierveld said, "He was always the type of man who never called attention to his inspiring ways, his obvious gifts and his abilities at the front of the classroom.  He, in the classroom, always represented a solid and joyful respect for the art of teaching and learning—and his sense of humor was ALWAYS right on the money, and HUMBLE."
Outside of the classroom, Mr. Anderson played the electric guitar and grew grapefruit and lemons in his backyard that he would share in the teachers' lounge every year. He was a father to Jane Anderson Lemoine, Sam Anderson, and Noah Anderson, and a grandfather to Jackson and Elias Lemoine.
Mr. Anderson never wanted the attention of others, but it is hard not to acknowledge how much of an impact he made on the Ascension community. We will miss him and his perfect circles dearly.
Leave a Comment
About the Contributor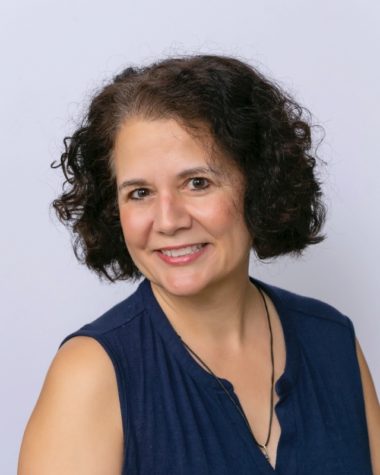 Stephanie Fournet, Contributor
While I am Director of College Counseling, I am also a writer. I have a background in journalism, and I am the author of twelve novels. Brunch is the most important meal of the day, and a great day is one where I don't have to leave the house. My dogs Mabel and Bud really love that my favorite activities—writing, reading, and crocheting—can be done on the couch with them in my lap.