What is the Best Part of Mardi Gras?
The best part of Mardi Gras is the parades. There are so many good parades to attend during the Mardi Gras season. You and all of your friends can meet in a spot on the parade route. You can stand up on the barricade, or stand behind the crowd to catch some fun goodies. Beautiful floats drive by with wonderful decorations. These floats all took hours to make. They are all crafted uniquely. The people on the floats will throw beads, stuffed animals, and other toys to the people that yell for them. Another great thing about parades is how people can dress up for it. Everyone dresses up in gold, green, and purple. These are the colors that represent Mardi Gras. 
Last year at Mardi Gras, one of my friends, Aubrey Womack, threw me a giant elephant stuffed animal that was almost as big as me. I still have this stuffed animal in my room to this day. In my opinion, Rio was the best parade in Lafayette that I attended this year. In Rio, the floats were ginormous, and they threw many beads to everyone, and all of my friends were there. This parade was a blast to attend. I would recommend this parade to everyone. I hope that everyone will experience a season of Mardi Gras at least one time in their life. 
Leave a Comment
About the Contributor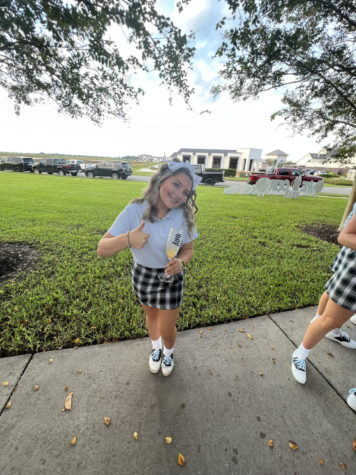 Ava Groves, Staff Writer
Hey y'all! My name is Ava Groves. I'm a senior at Ascension, and I have been here since Pre-K4. This is my first time taking Journalism, and I am so excited to experience it! During my free time, I love to hangout with my friends, shop, and drive around. While at Ascension, I have been a part of Cupcakes for Causes, Beads for Needs, Students Against Destructive Decisions, and Beta Club. I cannot wait to see where this class takes me!