73 Questions with SK West
1. What's one thing people don't know about you? 
I love driving
2. Dream country to visit?
Greece
3. What's the biggest surprise you've had?
My car
4. What are 3 things you can't live without?
My phone, my friends, my car
5. What's your current TV obsession?
I don't watch TV
6. Secret Talent? 
I can text without looking at my phone
7. Most adventurous thing you've done in your life? 
Zip lining, I'm scared of heights
8. How would you define yourself in three words?
Funny, kind, happy
9. Superpower you would want?
To be invisible
10. Best piece of advice you've received?
Everyone dies but not everyone truly lives, so live your best life
11. What's a movie that everyone should see?
Mamma Mia
12. What's your spirit animal?
Dolphin
13. What's your favorite board game?
Clue
14. What's your favorite color?
Blue or Kelly green
15. Least favorite color?
Orange
16. Coffee or Tea?
Coffee
17. Sweet or Savory?
Sweet
18. Board games or Card games?
Card
19. Country or City?
City
20. Beach or Mountains?
Beach
21. Pancakes or Waffles?
Pancakes
22. Morning or Night?
Morning
23. Cats or Dogs?
Dogs
24. Pen or Pencil?
Pencil
25. Socks or Barefoot?
Barefoot
26. Pepsi or Coke?
Coke
27. McDonald's or Burger King?
McDonald's
28. Netflix or YouTube?
Netflix
29. Passenger or Driver?
Driver
30. Save or Spend money?
Spend
31. Sweater or Hoodie?
Hoodie
32. Cake or Pie?
Cake
33. iOS or Android?
iOS
34. Watching Football or Baseball?
Football
35. You are stuck on an island, you can pick one food to eat forever without getting tired of it, what would you eat?
Potatoes. You can make a lot with potatoes.
36. A dessert you don't like?
Macaroons
37. Song you can listen to on repeat? 
"Callin Baton Rouge"
38. If you could switch lives with someone for a day, who would it be?
Kendall Jenner
39. What is on your bucket list?
To go to Greece
40. Best childhood memory?
When Maddy J threw up on the boat at Disney
41. What is your favorite holiday?
Christmas
42. What are you most thankful for?
My friends
43. What is your favorite joke?
Idk
44. How many siblings do you have?
3
45. When is your birthday?
April 6
46. Favorite snack?
Hummus and pita bread
47. What is the bravest thing you ever did?
Talk in front of crowd
48. What are your pet peeves?
Hypocrites
49. What genre of music are you into?
Rap
50. What was the last thing you read?
An Insta post
51. What's the phone app you use most?
Snap
52. What would you do if you won the lottery?
Buy a car
53. What makes you laugh the most?
Maddy J
54. What is one thing you're glad you tried but would never do again?
Snowboarding
55. Are you usually early or late?
Late
56. What's your dream car?
G-wagon
57. What takes up too much of your time?
Irrelevant things
58. What's one condiment you put on everything?
Ketchup
59. What are you most looking forward to in the next 10 years?
Going to college and getting married
 60. If all jobs had the same pay and hours, what job would you like to have?
Hairdresser
61. What irrational fear do you have?
Commitment
62. What's the best thing you got from your parents? (physical/personality trait)
Personality
63. If your life was a book, what would its title be?
Hot Mess Express
64. What would you do if you only had one day left?
Everything I possibly could
65. How often do you buy clothes?
Often
66. What's your favorite fast food chain?
Chick-fil-A
67. What was your favorite subject in school?
AAA
68. Are you an introvert or an extrovert?
Extrovert
69. If you had a warning label, what would yours say?
I talk a lot
70. If you could completely get rid of one month out of the year, which month would it be?
November
71. If you had to endorse a brand, which brand would it be?
Gucci
72. Would you ever run a marathon?
No
73. Who is your role model?
Mrs. Robert
Leave a Comment
About the Contributor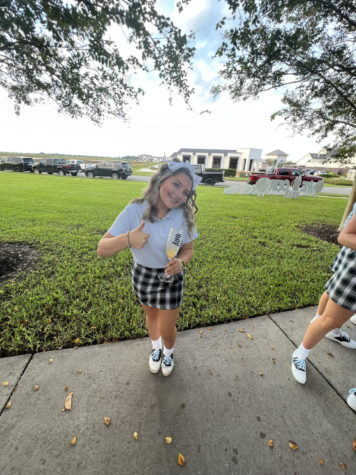 Ava Groves, Staff Writer
Hey y'all! My name is Ava Groves. I'm a senior at Ascension, and I have been here since Pre-K4. This is my first time taking Journalism, and I am so excited to experience it! During my free time, I love to hangout with my friends, shop, and drive around. While at Ascension, I have been a part of Cupcakes for Causes, Beads for Needs, Students Against Destructive Decisions, and Beta Club. I cannot wait to see where this class takes me!