Senior Spotlight: Payton Musso
Name: Payton Musso
Grade Started at Ascension: 2nd grade
Favorite Teacher: Mrs. Robert 
 Favorite Ascension Memory: Payton's favorite Ascension memory was during Junior Senior prank war, when Maddy J dropped her phone in the storm drain, and she almost called the fire department, but SK came to the rescue and grabbed it out of the storm drain using her toes.
Future Plans: Payton wants to attend Tulane and major in biomedical engineering.
---
Payton is a member of the Basketball Team, Softball Team, Girls State, Beta, National Honors Society, National English Honors Society, National History Honor Society, Hunters for the Hungry, and Young Life. Payton's advice to the underclassmen is, "Time flies when you're having fun, so make the most of it." Payton's favorite animals are dogs. She loves the color pink. Her favorite book is Orbiting Jupiter by Gary D. Schmidt. Her dream is to one day make prosthetics.
View Comments (1)
About the Contributor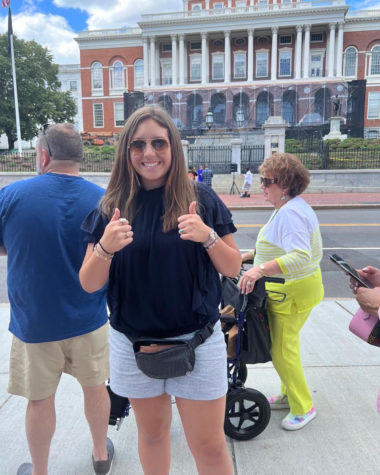 Caroline Ortemond, Assistant Editor
Hi everyone! My name is Caroline Ortemond. This is my second year being a member of Journalism. This year I am an assistant editor, and I love my journalism team. I am a member of the basketball and softball teams. I enjoy reading, writing, and art. I love Ascension and all of its opportunities. I am the co-founder of a club and a member of multiple youth groups. I can't wait to see what this year has in store for the Journalism group.